Accommodation
Prestatyn Sands offers a choice of 3 grades of Accommodation on both upper and ground floor.
Prestatyn Bungalow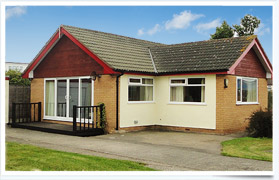 You know the saying "Keeping up with the Jones'" then why not be the Jones' with our New Bungalows that have a list of extras that will make you feel like a VIP during your holiday.
Private Family areas
Private BBQ
Dogs Welcome
plus much much more!
Find Out more!
Club accommodation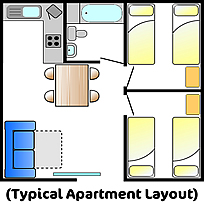 The top of the range! Our Club Apartments provide you with a host of additional benefits like free electricity, and digital TV. You also get the extra luxury of an early check-in from 2pm just to make your stay more comfortable and convenient.
Free Electricity
Free Daily Newspaper
Top-range standard of accommodation
Classic accommodation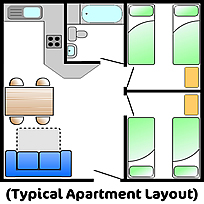 Generally a Classic Apartment is closer to the central amenities meaning more convenient access to all the facilities on your Holiday Park.
Mid-range standard of accommodation

Popular accommodation

Popular Accommodation, offers you a comfortable Apartment at an Outstanding price. The Apartments include a fitted kitchen, private bathroom and lounge with TV. All our Popular Apartments have either 1 or 2 bedrooms, so they can sleep up to 4 or 6 people.
Colour TV
Fitted Kitchen
Value Accommodation

Accommodation Types

Club – 1 or 2 Bedroom Apartments
Classic – 1 or 2 Bedroom Apartments
Popular – 1 or 2 Bedroom Apartments

Bathrooms

Club – Three quarter length Bath with Shower over
Classic – Three quarter length Bath with Shower over
Popular – Full length Bath, Toilet and Washhand Basin

Extras

Classic and Popular – Electricity is on a meter card – cards cost £5 and are available from machines located in the reception area on the Holiday Park. Travel Cot hire charge £10 per cot.

Special Requests

If you require any extra pillows or bedding please ask at the Service Centre on the Holiday Park. Ramps can be provided for access to all ground floor apartments, please ask at the time of booking or when booking online enter your request in the "Special Requests Field". At Prestatyn Sands there are a limited number of Classic Apartments that are fully adapted for guests with disabilities. They include a kitchen with lower level units and a fully adapted wet room facility in the Bathroom.

Self-Catering

Self-Catering apartments consist of a Lounge with a Double fold out Bed settee, Kitchen, Bathroom and 1 or 2 Bedrooms (See typical Apartment layouts) with either Single beds or Bunk beds. Prestatyn Sands also has a few Classic Apartments which have a Double Bed in the Bedroom.

Half-Board Option

Half-Board option is available at Prestatyn Sands. You will still have the facilities of a Self-Catering apartment but you will enjoy your breakfast and evening meal in the restaurant. Vouchers will be issued on arrival. From £11.50 per adult and £8.50 per child 14 and under PER DAY. Half-Board price will increase dependent on the date of travel.