Red Square Circus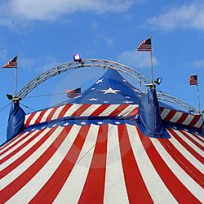 'Red Square Circus' is a collective of five plus, highly talented international Artists
All our Artists are professional Circus Performers and have been involved in the industry since birth passed down through generations and have all been trained at our very own circus school 'Arena' near to Moscow Russia.
You can expect to see the following acts in our shows, foot juggling, contortion, cigar box juggling, roller skate act, power and strength act, acrobatic skipping rope act, balance ladder skills, limbo, interactive clowning, comedy illusions acrobatic tap and juggling act to name just a few.
Please note – due to the way our entertainment is scheduled we cannot guarantee any one act will appear on a certain date at a particular Holiday Park. The information contained in this Entertainment section is a general guide of acts appearing throughout the season across all our Parks. For further information please see our full terms and conditions.