Bugged Out Weekender
One of the UKs Biggest Dance Weekenders, With world renowned DJ's and live acts
Pontins Southport Holiday Park
6, 7, 8 MARCH 2015
Join the Bugged Out Weekender for great music, a multi-roomed event, accommodation on site and pool parties!

Bugged Out Weekender 21st Anniversary!
In 2015 we will reach our 21st anniversary. Across the year we will be marking this significant milestone, starting with what has become our flagship event: the Bugged Out Weekender. And where better to kick off the birthday celebrations than the place where it all began in the North of England. After three hugely successful events in 2012, 2013 and 2014, the 2015 Bugged Out Weekender will take place on the new dates of March 6, 7, 8 at a new location; the Pontins resort in Southport. The multi-roomed event will again feature world renowned DJ's and live acts, accommodation on site pool parties and day time activities. Come as you are.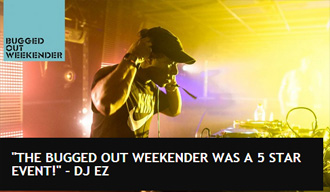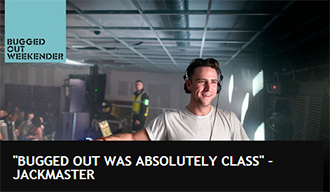 The Weekender!
The Bugged Out Weekender is staged at Pontins flagship resort in Southport. With multiple indoor music arenas and state of the art production, comfortable apartments with your own bathroom (beats camping!), great facilities on resort and convenient transports links and journey times for our revellers – it really is a fantastic base for the Bugged Out Weekender.

Accommodation!
1 and 2 bedroom apartments available for groups of 4, 5, 6, 7, 8. Our cheapest tickets! Popular Accommodation offer good value, comfortable accommodation and include fitted kitchen with microwave, private bathroom with bath and shower, lounge with TV and sofa bed, electricity, bed linen and car parking. Also Classic Apartments and Club Apartments also available, for more information visit www.buggedoutweekender.net to find out more.