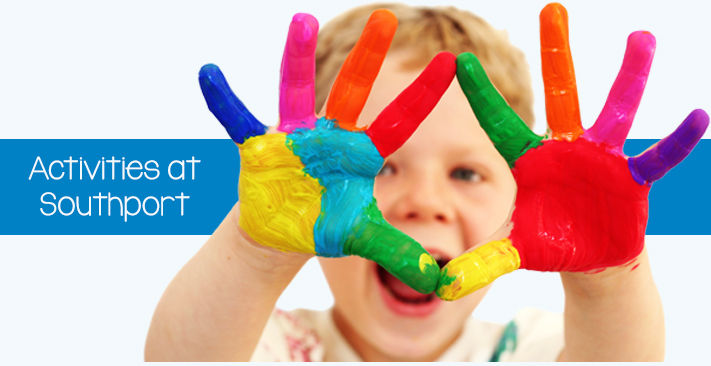 Family Fun Activities at Southport
Activity
Details
Activity
Details
Activity
Details

Game Zone

The best gaming experience in the North West. Game Zone includes pc's ps3's and x-boxes and all the latest games!.

Outdoor Skate Park

This brilliant on site skate park is stacked full with mini ramps and is perfect for skating, skateboarding or scooters.

Trampolines

Ever wanted a go on a trampoline? Well here's your chance!

Fun Bikes

Come along and hire one of our fun bikes! We offer one and two seater bikes. These pedal bikes are not only fun to ride, but also a great way of keeping fit!

Go Karts

Are you the next Jenson Button or Lewis Hamilton?? Then come along to our go kart track!

Giant Fort

New for 2015 at Southport… the giant fort is here!

It has places to climb, places to hide and places to spy on your friends. We can't wait to explore it and we know that you will love doing the same!

Jungle Blaster

The ultimate selection of outdoor arcade machines including the Jungle Blaster!

Remote Control cars

Experience the thrill and excitement of racing radio controlled cars with you at the wheel!

Pony Cycles

The Pony Cycle is a fun new way to improve balance and co-ordination and keep kids active.

Amusement Arcade

Fancy sitting back and playing some games, then visit the Pontins Amusement Arcade, where you can enjoy some of your favourite gaming past times. With arcade style games from all decades you are sure to find either a new and exciting favourite, or that game you've been missing for years.

Bingo

Eyes down for nightly Adult Bingo fun. Played every evening in the main entertainments venue, tickets sold prior to eyes down!

Kids Cinema Corner

Your kids will get lost in a world of fantasy at our Cinema Corner, Let them enjoy a showing of some of the latest films watched over at all times by a Bluecoat.

Giant Connect Four

This life size game of connect four is a game that the whole family can enjoy! The first person to connect either four red or yellow discs is the winner!

Bonny Baby

All babies are bonny but enter this competition and your baby might win a prize.

Swimming Gala

Are you competitive? Join in our swimming competitions!

Captain Croc's Adventureland

Adventureland is a child friendly climbing area with ball ponds for the little ones to swing, bounce and jump till their little heart's content. This is available for under 8′s

Dreamboats and Bluecoat Show

Fabulous entertainment for all the family. A stay at Pontins isn't complete until you have seen a show, there is plenty to choose from!

Board Games

Board game fun for all the family!

Boogie with the Blues

Get down and boogie with the Bluecoats.

Character Appearances

Meet your favourite Pontin's characters – Captain Croc is the daredevil leader of the Croc Crew.

Snakes and Ladders

Giant board game fun. The Traditional Snakes and Ladders but Giant!

Children's Swimming Pool

Make a splash… fun for all the family!

Crazy Colouring Capers

You can colour to your hearts content! Colour in all your favorite characters!

Crazy Golf

Crazy golfing fun for all the family!

Skate Park

Built for all weather you can enjoy the Skate Park even when it is raining.

Darts

Bullseye!! Go for the 180!

Water Walkerz

Ever wanted to Walk on water

Disglo in the Dark

Get your fluorescent gear on for a disco in the dark!

Face Painting

The Kids will have loads of fun with face painting by our Bluecoats!

Hip Hop Dance Class

Hit the dance floor and learn some hip hop moves!

Fancy Dress

Transform your self with some funky fancy dress. Bring your along your fancy dress costumes!

Florence's Fame Academy

See Florence the Ostrich with two left feet, teaching the Bluecoats how to become a ballerina with screamingly funny results.

Bouncy Castle Centre

Bounce about on the inflatable course!

Game Shows

You have to be in it to win it!!!

Human Table Football

It's match day.. Have alot of fun with Human Table Football!

Croc's Party

Get ready to dance and have loads of fun with Croc at his party.

Swimming Pool Inflatables

Make a splash on our ultimate Inflatables!

Kids Krew

Packed with fast paced activities for kids with surplus energy, adults can join in too!

Late Night Disco

Dance the night away!

Little Tykes Play Area

Safe environment for the little ones to play.

Live Cabarets

Glittering cabaret acts for all to enjoy!

Magicians

How do they do that? Shows sure to amaze!

Outdoor Play Area

Swing by for some outdoor fun!

Line Dancing Lessons

Grab your partner by the hand!

Tennis

Grab your racket! Great fun with a friend or even team up for a game of Pairs!

Pantomime

He's behind you.. Oh no he isnt… join in with the Pantomine fun!

Parachute Games

The games are a lot of fun for both children and adults!

Party Dancing

Come and have a dance with our Bluecoats!

Rounders

Get past 3rd base and get a home run!

Soak a Blue

Have a splashing time and throw some sponges at our Famous Bluecoats!

Swimming Lessons

A fun way to boost your confidence and improve your swimming!

Sports Day

Come and join in our Sports Day with our Famous Bluecoats! Bring your family to join in!

Star Cabarets

Watch our great Cabaret shows with your whole family!

Story Time

Story time in Adventureland!

Quizzes

How's your general knowledge? Join in the fun with our competitions!

Pontins Got Talent

Have you got what it takes to be the next Pontins Superstar?

Table Tennis

Fun for the whole family, Compete on your own or join up for a game of pairs!

Pontins Character Breakfast

Want to have an up close and personal meeting with your favourite member of the Croc Crew? Then come to one of our character breakfasts to grab a bite to eat and some one-on-one time with the Famous Croc Crew.

3G football pitch

Show us your skills with our Free football training class from 12 – 2pm Thursday.
*Please note some activities may incur an additional charge to participate and may not be available at all parks during all times.