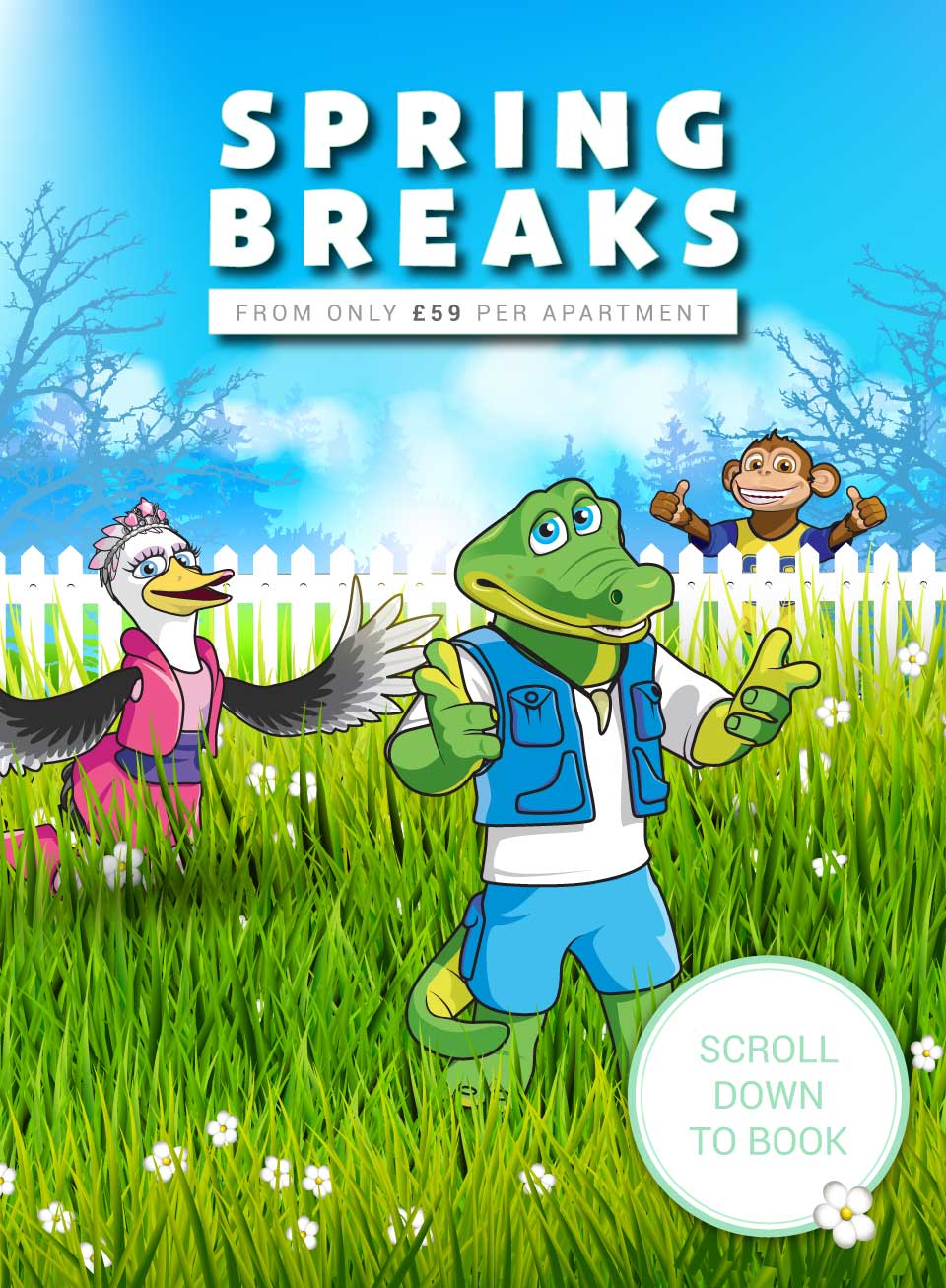 2018 SPRING HOLIDAYS
NOW AVAILABLE!
Our 2018 Spring Family Breaks are available, what's more… we have family breaks available from as little as £59 per apartment, so what are you waiting for?!
Throughout 2018 we have a jam packed schedule of events waiting for you. Our world famous Bluecoats and Kids favourites "The Croc Crew" will be on hand with lots of fun and games, plus we have some amazing character appearances, entertainers, shows & much more planned for 2018 so stay tuned… you won't be disappointed!
Book now and join us in Spring 2018 for a family holiday by the seaside, filled with fun, fun, fun and so much more!
TO BOOK YOUR SPRING 2018 PONTINS HOLIDAY, SIMPLY CLICK
ON ANY OF THE PRICES IN THE TABLES BELOW.
MAY 2018 DATES:

Dates
Nights

21-May




Mon 4 nts

21-May




Mon 7 nts

21-May




Mon 2 nts

22-May




Tue 2 nts

All Prices below are based on a Popular 4 Share Self Catered Apartment
Brean Sands
✘
✘
✘
✘
Camber Sands
✘
✘
✘
✘
Prestatyn Sands
✘
✘
✘
✘
Southport
✘
✘
✘
✘
All Prices below are per person based on 2 sharing a 1 bedroom Half-Board Classic apartment.
Children 13 & under are charged at half the adult price at Pakefield during school holidays.
Pakefield
Adult
Only
Adult
Only
Adult
Only
Adult
Only
JUNE 2018 DATES:

MAY HALF TERM
Dates
Nights

01-Jun




Fri 2 nts

01-Jun




Fri 3 nts

01-Jun




Fri 7 nts

02-Jun




Sat 7 nts

04-Jun




Mon 2 nts

04-Jun




Mon 4 nts

04-Jun




Mon 7 nts

05-Jun




Tue 2 nts

06-Jun




Wed 2 nts

All Prices below are based on a Popular 4 Share Self Catered Apartment
Brean Sands
£119
£129
£189
£189
£69
£79
£169
£69
£69
Camber Sands
£89
£99
£149
£149
£59
£69
£149
£59
£59
Prestatyn Sands
£99
£109
£169
£169
£69
£79
£159
£69
£69
Southport
£79
£89
£139
✘
£59
£69
✘
£59
£59
All Prices below are per person based on 2 sharing a 1 bedroom Half-Board Classic apartment.
Children 13 & under are charged at half the adult price at Pakefield during school holidays.
Pakefield
£59

pp

£69

pp

✘

pp

✘

pp

Adult
Only
Adult
Only
Adult
Only
Adult
Only
Adult
Only
JUNE 2018 DATES:

Dates
Nights

08-Jun




Fri 2 nts

08-Jun




Fri 3 nts

08-Jun




Fri 7 nts

09-Jun




Sat 2 nts

09-Jun




Sat 7 nts

11-Jun




Mon 2 nts

11-Jun




Mon 4 nts

11-Jun




Mon 7 nts

12-Jun




Tue 2 nts

All Prices below are based on a Popular 4 Share Self Catered Apartment
Brean Sands
£99
£109
£169
£99
£169
£69
£79
£169
£69
Camber Sands
£99
£99
✘
£89
✘
✘
✘
✘
✘
Prestatyn Sands
£89
£99
£159
£89
£159
£69
£79
£159
£69
Southport
✘
✘
✘
✘
✘
£59
£69
£149
£59
All Prices below are per person based on 2 sharing a 1 bedroom Half-Board Classic apartment.
Children 13 & under are charged at half the adult price at Pakefield during school holidays.
Pakefield
Adult
Only
Adult
Only
Adult
Only
✘

pp

✘

pp

Adult
Only
Adult
Only
Adult
Only
Adult
Only
JUNE 2018 DATES:

Dates
Nights

13-Jun




Wed 2 nts

15-Jun




Fri 2 nts

15-Jun




Fri 3 nts

15-Jun




Fri 7 nts

16-Jun




Sat 2 nts

18-Jun




Mon 2 nts

18-Jun




Mon 4 nts

18-Jun




Mon 7 nts

19-Jun




Tue 2 nts

20-Jun




Wed 2 nts

22-Jun




Fri 2 nts

22-Jun




Fri 3 nts

All Prices below are based on a Popular 4 Share Self Catered Apartment
Brean Sands
£69
£99
£109
£169
£99
£69
£79
✘
£69
£69
✘
✘
Camber Sands
✘
✘
✘
✘
✘
£59
£69
£149
£59
£59
£89
£99
Prestatyn Sands
£69
£89
£99
✘
£89
✘
✘
✘
✘
✘
✘
✘
Southport
£59
£89
£99
£169
£89
✘
£89
✘
✘
✘
✘
48
Hour
Party
All Prices below are per person based on 2 sharing a 1 bedroom Half-Board Classic apartment.
Children 13 & under are charged at half the adult price at Pakefield during school holidays.
Pakefield
Adult
Only
Adult
Only
Adult
Only
Adult
Only
Adult
Only
Adult
Only
Adult
Only
Adult
Only
Adult
Only
Adult
Only
Adult
Only
Adult
Only
JUNE 2018 DATES:

Dates
Nights

22-Jun




Fri 7 nts

23-Jun




Sat 2 nts

25-Jun




Mon 2 nts

25-Jun




Mon 4 nts

25-Jun




Mon 7 nts

26-Jun




Tue 2 nts

27-Jun




Wed 2 nts

29-Jun




Fri 2 nts

29-Jun




Fri 3 nts

29-Jun




Fri 7 nts

30-Jun




Sat 2 nts

All Prices below are based on a Popular 4 Share Self Catered Apartment
Brean Sands
✘
✘
£79
£89
✘
£79
£79
✘
✘
✘
✘
Camber Sands
£149
£89
£59
£69
✘
£59
£59
✘
✘
✘
✘
Prestatyn Sands
✘
✘
£79
£89
£169
£79
£79
£89
£99
£179
£89
Southport
48
Hour
Party
✘
✘
✘
✘
✘
✘
✘
✘
✘
✘
All Prices below are per person based on 2 sharing a 1 bedroom Half-Board Classic apartment.
Children 13 & under are charged at half the adult price at Pakefield during school holidays.
Pakefield
Adult
Only
Adult
Only
Adult
Only
Adult
Only
Adult
Only
Adult
Only
Adult
Only
✘

pp

✘

pp

✘

pp

✘

pp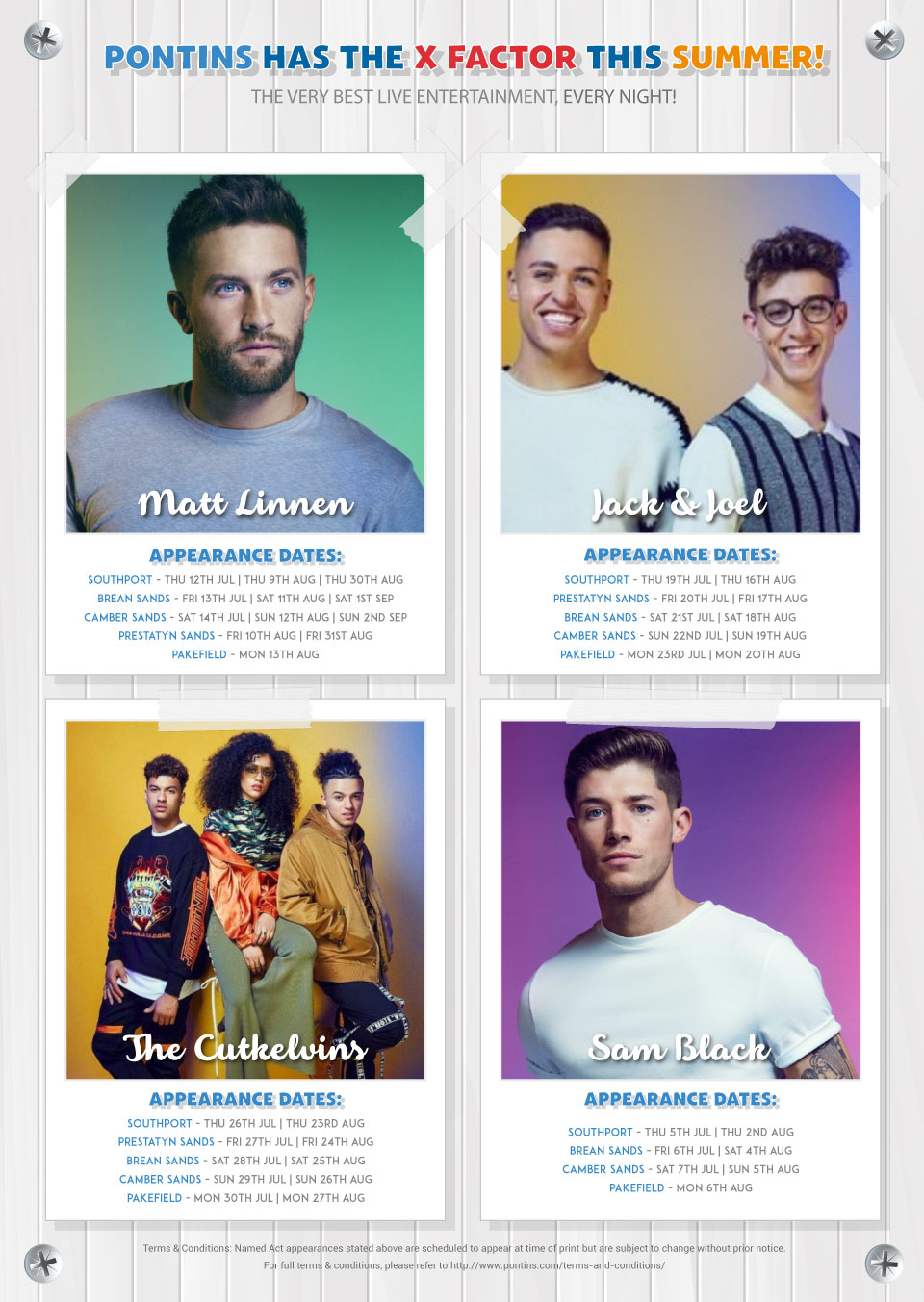 HALF-BOARD UPGRADE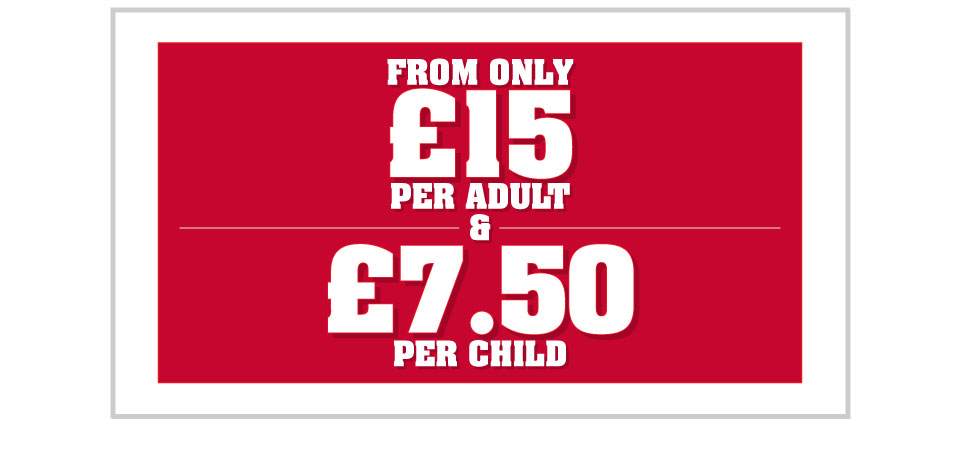 TERMS & CONDITIONS
Terms & Conditions apply. E&OE. All places are subject to availability at the time of booking. Available for new bookings only. Calls are charged at 13p per minute + your chosen phone company access charge. Rates are pre paid and non refundable. Prices are based on a Popular 4 Share Self Catered Apartment and do not include linen, electric or towels. Pakefield prices are per person based on 2 sharing a 1 bedroom half board Classic apartment and do not include linen. Sand Bay prices are per person based on 2 sharing a 1 bedroom half board Classic apartment and do include linen. Children at Pakefield are aged between 2 – 13 years old, under 2s go free. Children are charged at half the adult price at Pakefield during School Holidays. Pakefield has no Popular Apartments and its Apartments have a petite kitchenette including: microwave, toaster, kettle, small sink and some utensils. There is a limited number of Apartments with a fitted kitchen: four ring hob, microwave, toaster, kettle, fridge, sink and some utensils. Ent, Adult Only & Select = Adult only and are open to over 18s only. One free entertainment pass per person per booking. Not all entertainment and activities are available on all Parks, check when booking to avoid any disappointment. Many activities are free, there is a small charge for some activities. Pontins reserves the right to change and or remove prices without prior notice. For all terms and conditions please ask at time of booking or visit www.pontins.com/terms-and-conditions/