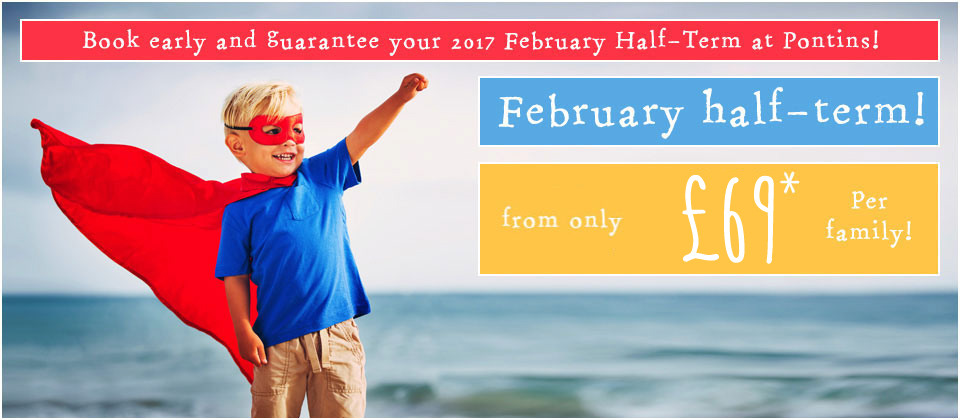 Book your 2017 February Half-Term break today!
2017 February Half-Term breaks now available to book!
The kids have finished school and we all know how hard they work, so instead of watching them waste their holiday stuck in playing computer games, why not treat them to a well earned Pontins break during February Half-Term 2017?

February is the perfect time of the year to blow away those winter cobwebs and with a fantastic beach on the doorstep, you can be sure of some fresh sea air to do just that! Plus, with the option to book 3, 4 or 7 night breaks from only £89* per family, what are you waiting for?

We have a wide range of fun activities and entertainment planned for all ages to take part in and enjoy. Not to forget our world famous Bluecoats and kids favourites, the Croc Crew who are always on hand to make your holiday one to treasure! February Half-Term at Pontins is so much fun and at these prices, you really don't want to miss out!
Including amazing entertainment from: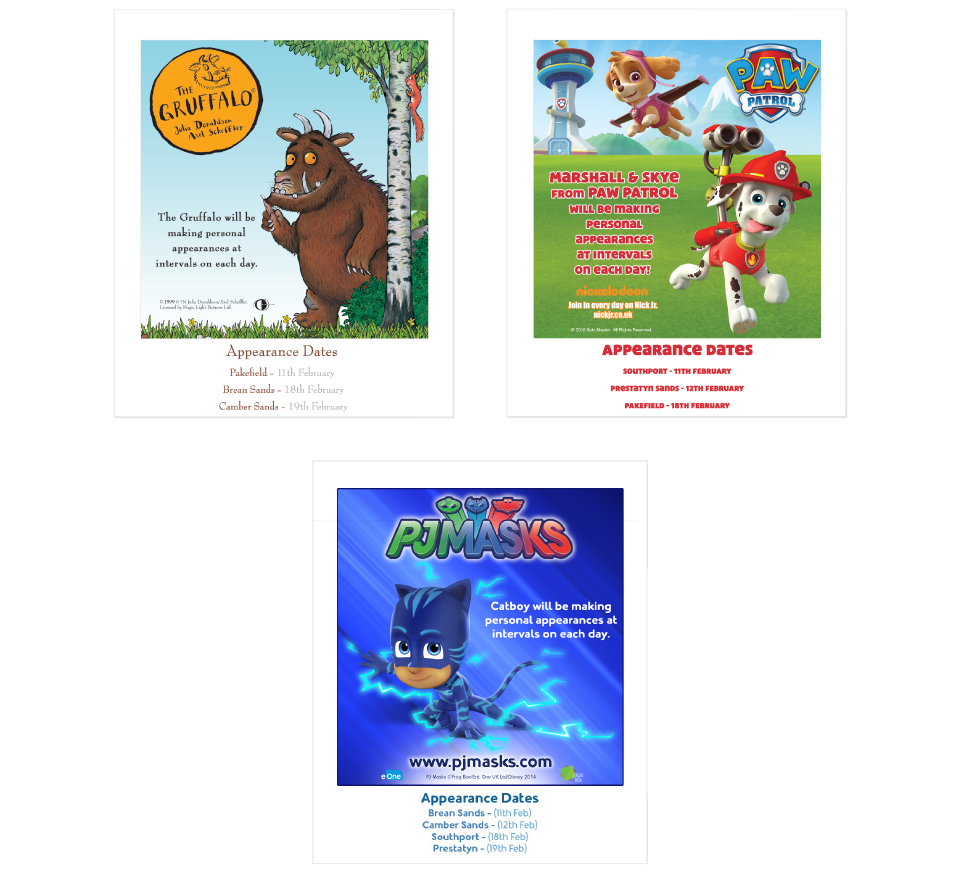 To book, simply click on the relevant price in the tables below.
February Half-Term 2, 3, 4 & 7 night Breaks
Dates
Nights

10-Feb




Fri 3 nts

10-Feb




Fri 2 nts

11-Feb




Sat 7 nts

11-Feb




Sat 2 nts

12-Feb




Sun 2 nts

13-Feb




Mon 4 nts

13-Feb




Mon 2 nts

14-Feb




Tue 2 nts

All Prices below are based on 4 sharing a 1 Bedroom Popular Self Catered Apartment
Brean Sands
£99
£89
£189
£89
£89
£109
£89
£89
Camber Sands
£89
£79
£169
£79
£79
£99
£79
£79
Prestatyn Sands
£79
£69
£149
£69
£69
£89
£69
£69
Southport
£79
£69
£149
£79
£69
£89
£69
£69
All Prices below are per person based on 2 sharing a 1 bedroom Half-Board Classic apartment.
Children are charged at half the adult price at Pakefield during school holidays.
Pakefield
£69
£59
£129
£69
£69
£79
£69
£69
February Half-Term 2, 3, 4 & 7 night Breaks
Dates
Nights

15-Feb




Wed 2 nts

16-Feb




Thur 2 nts

17-Feb




Fri 3 nts

17-Feb




Fri 2 nts

18-Feb




Sat 7 nts

18-Feb




Sat 2 nts

19-Feb




Sun 2 nts

20-Feb




Mon 4 nts

20-Feb




Mon 2 nts

All Prices below are based on 4 sharing a 1 Bedroom Popular Self Catered Apartment
Brean Sands
£89
£89
£99
£89
✘
£89
£89
£119
£99
Camber Sands
£79
£79
£79
£69
✘
£69
✘
✘
✘
Prestatyn Sands
£69
£69
£89
£79
✘
£79
£79
£119
£99
Southport
£69
£69
£79
£69
✘
£69
£69
£109
£89
All Prices below are per person based on 2 sharing a 1 bedroom Half-Board Classic apartment.
Children are charged at half the adult price at Pakefield during school holidays.
Pakefield
£69
£69
£69
£59
✘
£59
✘

Adult Only

✘
February Half-Term 2, 3, 4 & 7 night Breaks
Dates
Nights

21-Feb




Tue 2 nts

22-Feb




Wed 2 nts

23-Feb




Thur 2 nts

24-Feb




Fri 3 nts

24-Feb




Fri 2 nts

25-Feb




Sat 7 nts

25-Feb




Sat 2 nts

27-Feb




Mon 4 nts

All Prices below are based on 4 sharing a 1 Bedroom Popular Self Catered Apartment
Brean Sands
£99
£99
✘
✘
✘
✘
✘
✘
Camber Sands
✘
✘
✘
✘
✘
✘
✘
✘
Prestatyn Sands
£99
£99
✘

48 Hour Party

✘
✘
✘
✘
Southport
£89
£89
✘

Event

✘
✘
✘
✘
All Prices below are per person based on 2 sharing a 1 bedroom Half-Board Classic apartment.
Children are charged at half the adult price at Pakefield during school holidays.
Pakefield
✘
✘
✘
✘

Adult Only

✘
✘

Adult Only