Welcome to our UK Holiday Parks page
Below you can find information about the location of all 6 of our UK Holiday Parks, to view park specific details all you have to do is select the park that you wish to view by clicking on the name below.
At Pontins we pride ourselves on providing the very best entertainment from some of the latest names (and even some classic ones too!). So why not take a look below and find a perfect holiday destination for you and your family?
If it is Adult Only Holidays that you are looking for then we have 2 parks that offer Adult Only breaks, Sand Bay is exclusively Adult Only and Pakefield is Adult Only apart from selected dates during school holidays.
With our fantastic live entertainment, fun activities, delicious food and seaside air you are bound to find the perfect UK getaway with Pontins.
1.
Shore Road, Ainsdale-on-Sea
Southport, PR8 2PZ
Tel No: 08724 350 201
2.
Barkby Avenue, Denbigshire
North Wales, LL19 7LA
Tel No: 08724 350 202
3.
Burnham on Sea
Somerset, TA8 2RJ
Tel No: 08724 350 203
4.
New Lydd Road, Camber Sands
Sussex, TN31 7RL
Tel No: 08724 350 204
5.
London Road, Kessingland, Lowestoft,
Suffolk, NR33 7PF
Tel No: 08724 350 205
6.
Sand Bay Holiday Park (Adult Only)
Beach Road, Kewstoke,
Weston-super-Mare, BS22 9UR
Tel No: 08724 350 206
Click the name of a park to view
specific information.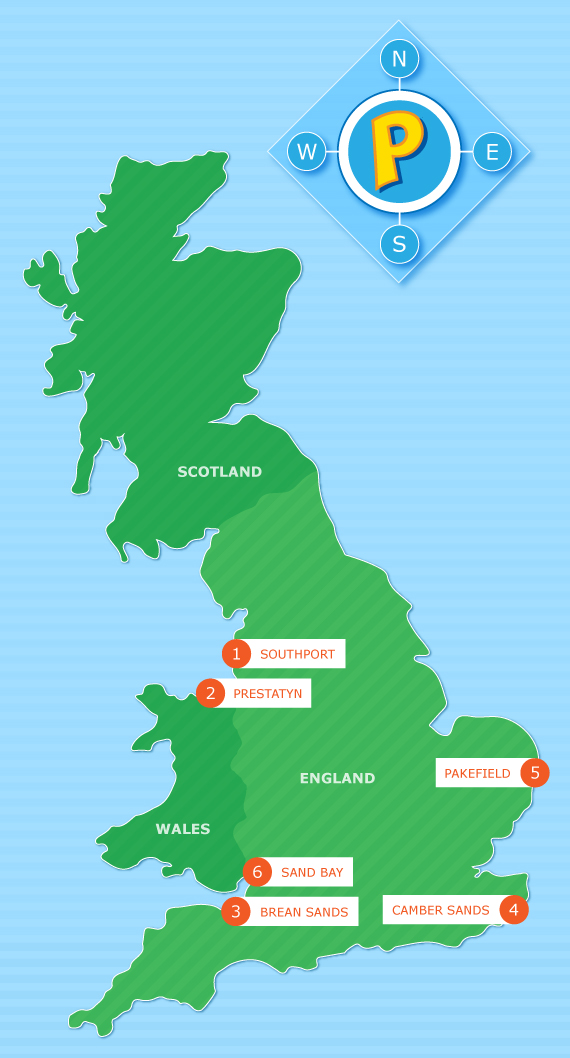 Activities
All of our Pontins Holiday Parks are filled with activities to help fill your days with action, adventure, nights of laughter and song. Bring the family to Pontins for your Holiday or Short Break and you'll take home a feast full of wonderful memories you will treasure forever!
We know how important your holiday is and with over 65 years of entertaining the nation, we would love to invite you and your family to join us at one of our 6 Outstanding UK Holiday parks, each of which is just a stone's throw away from award winning beaches.
Nobody packs in more famous names and activities than Pontins Holiday Parks UK. With tons of FREE things to do. The biggest problem you will have is finding the time to fit them all in. Soccer skills and Swimming for the seriously sporty. We have Talent Shows and Karaoke for the shining stars.
You can view the Activities Page for more information by clicking HERE!