Ponteenies Kids Zone
Keeping your kids happy
Our dedicated team of Bluecoats and the Croc Crew are ready to entertain your little ones while you sit back and relax (just like you should, you're on Holiday!). Your kids will be kept amused all day long with our exciting fun packed activities. Florence and her team will entertain the little monsters, allowing them to discover Captain Croc's Adventureland and take part in Florence's Fame Academy.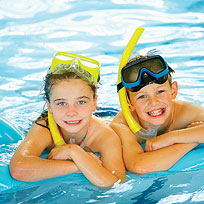 Swimming Zone
If you fancy a quick dip, bring the whole family to the swimming zone and make a big splash, while the youngsters have paddle into the nursery pool under the watchful eye of our trained life guards.

The Sooty Show Live
Pontins are proud to announce the arrival of The Sooty Show Live at all Parks in 2012. The Sooty Show has been one of ITV's most popular childrens shows for many years, and with the new TV series features Sooty running a holiday camp just like Pontins!
Meet the gang
Captain Croc and his friends make up The Croc Crew, a group of friends who love to entertain everyone at Pontins with their activities and adventures, dancing, singing and having fun. The Croc Crew will be sure to amuse the whole Family throughout your Holiday day or night!

Captain Croc
Captain Croc is the daredevil Leader of the Croc Crew and Captain of the Good Ship Explorer. He is a fearless adventurer and explorer who is totally cool!

Chuckles
Chuckles is the cheeky clown of The Croc Crew, he is full of energy and very excitable!

Zena
Zena is the brains of The Croc Crew, and is the mastermind behind all the Crew's games!

Florence
Florence is the diva of The Croc Crew, full of life and loves to sing, dance and sparkle! She is a pure Princess!
and the….
Bad Guys!

Safari Sam & Sir Cyril
Safari Sam is a mean man! He is always trying to ruin The Croc Crew's fun. But Safari Sam always looses his fight and Croc always wins. Sir Cyril is Safari Sam's only friend and helps him plot against The Croc Crew. He is one sneaky snake.