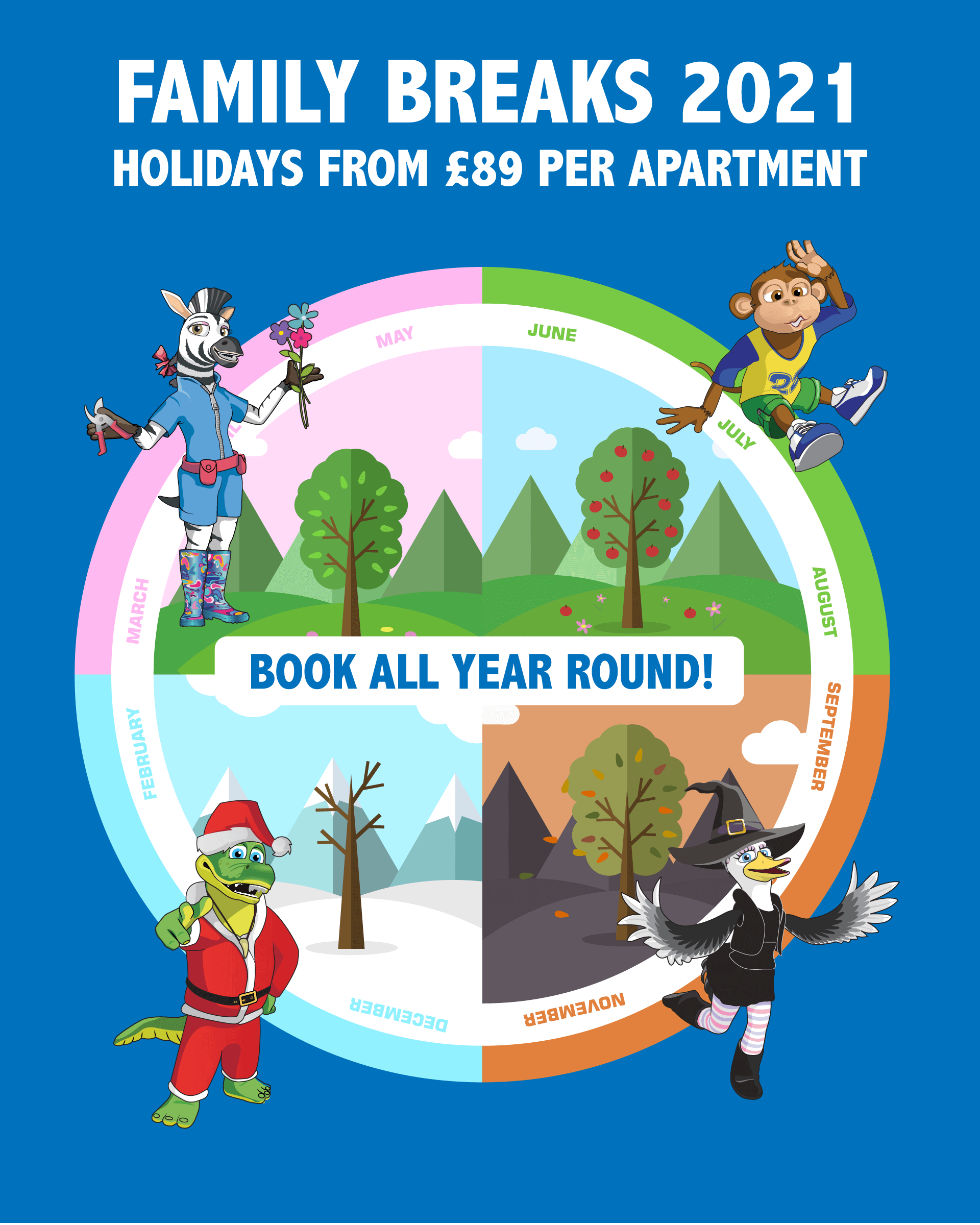 Looking for Summer 2020 Breaks?
VIEW NOW
2021 Family Holidays
2021 self catering Family Holidays available from as little as £89 per apartment, so what are you waiting for?!
2021 – It's a new year & a new Pontins. We have renewed our focus on providing you the best entertainment, our world-famous Bluecoats and Kids favourites "The Croc Crew" will be on hand to keep the whole family entertained. Plus we have some amazing character appearances, entertainers, shows & much more planned for 2021… you won't be disappointed! Filled with fun, fun, fun you can book a Family Holiday from as little as £89 per apartment, so what are you waiting for?!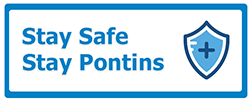 Pontins Holiday Parks reopening 17th July 2020
Pontins Holiday Parks and Sand Bay & Pakefield Holiday Villages are re-opening from 17th July 2020 in line with current government advice.
At this time we can only offer self catered breaks.
Following government guidelines there will be no entertainment and the activities on park will be limited as social distancing guidelines must be adhered to.
Pontins Holidays takes the health & safety of all its guests and staff very seriously and as such please be advised we will review and update this information as it is released by the government.
All our parks and holiday villages are situated a stone's throw from the beach; the weather is set to be fantastic; we look forward to welcoming you back.
Following the latest government announcement; we are working hard to open our onsite bar, supermarket, arcade, bingo and take away facilities. We will update this post as more information is available.
Click prices in the tables below to book!
FEBRUARY 2021
DATES


NIGHTS

BREAN SANDS




CAMBER SANDS




PRESTATYN SANDS




SOUTHPORT



All Prices below are based on 4 sharing a 1 Bedroom Self Catered Apartment
FEB HALF TERM BREAKS
12-FEB


FRI 3 NTS

£99
£79
£69
£89
13-FEB


SAT 7 NTS

£199
£159
£199
£179
15-FEB


MON 4 NTS

£119
£99
£119
£119
19-FEB


FRI 3 NTS

£89
£89
£79
£79
26-FEB


FRI 3 NTS

£89
✘
✘
✘
MARCH 2021
DATES


NIGHTS

BREAN SANDS




CAMBER SANDS




PRESTATYN SANDS




SOUTHPORT



All Prices below are based on 4 sharing a 1 Bedroom Self Catered Apartment
05-MAR


FRI 3 NTS

£89
✘
£89
✘
12-MAR


FRI 3 NTS

✘
✘
✘
✘
JUNE 2021
DATES


NIGHTS

BREAN SANDS




CAMBER SANDS




PRESTATYN SANDS




SOUTHPORT



All Prices below are based on 4 sharing a 1 Bedroom Self Catered Apartment
04-JUN


FRI 3 NTS

£129
✘
£109
£109
05-JUN


SAT 7 NTS

£225
✘
✘
✘
07-JUN


MON 4 NTS

£115
£99
£109
£99
11-JUN


FRI 3 NTS

£129
£109
✘
✘
12-JUN


SAT 7 NTS

✘
✘
✘
✘
14-JUN


MON 4 NTS

£109
✘
£109
✘
18-JUN


FRI 3 NTS

£129
✘
£119
✘
19-JUN


SAT 7 NTS

✘
✘
£209
✘
21-JUN


MON 4 NTS

£109
£99
£109
✘
25-JUN


FRI 3 NTS

✘
✘
£119
✘
26-JUN


SAT 7 NTS

£219
✘
✘
✘
28-JUN


MON 4 NTS

£109
£105
£109
✘
SEPTEMBER 2021
DATES


NIGHTS

BREAN SANDS




CAMBER SANDS




PRESTATYN SANDS




SOUTHPORT



All Prices below are based on 4 sharing a 1 Bedroom Self Catered Apartment
03-SEP


FRI 3 NTS

£109
£109
£109
✘
04-SEP


SAT 7 NTS

✘
✘
✘
✘
06-SEP


MON 4 NTS

£99
£99
£99
£99
10-SEP


FRI 3 NTS

✘
£109
£89
£99
11-SEP


SAT 7 NTS

✘
£179
£159
✘
13-SEP


MON 4 NTS

£99
£89
£89
✘
17-SEP


FRI 3 NTS

£99
£99
£109
✘
18-SEP


SAT 7 NTS

✘
£169
✘
✘
20-SEP


MON 4 NTS

£99
£89
£89
£89
24-SEP


FRI 3 NTS

£109
£99
✘
✘
25-SEP


SAT 7 NTS

✘
✘
✘
✘
27-SEP


MON 4 NTS

£105
£89
£89
£89
OCTOBER 2021
DATES


NIGHTS

BREAN SANDS




CAMBER SANDS




PRESTATYN SANDS




SOUTHPORT



All Prices below are based on 4 sharing a 1 Bedroom Self Catered Apartment
01-OCT


FRI 3 NTS

✘
✘
£109
✘
02-OCT


SAT 7 NTS

✘
✘
✘
✘
04-OCT


MON 4 NTS

£99
£89
£89
✘
08-OCT


FRI 3 NTS

£109
✘
£149
✘
09-OCT


SAT 7 NTS

£189
✘
✘
✘
11-OCT


MON 4 NTS

£99
£89
£89
£89
15-OCT


FRI 3 NTS

£119
✘
✘
£99
16-OCT


SAT 7 NTS

£239
✘
✘
✘
OCTOBER HALF TERM BREAKS
18-OCT


MON 4 NTS

£139
£129
£129
£129
22-OCT


FRI 3 NTS

£129
£119
✘
£249
23-OCT


SAT 7 NTS

£249
£209
✘
✘
25-OCT


MON 4 NTS

£139
£109
£139
£139
29-OCT


FRI 3 NTS

£109
£99
£99
£199
30-OCT


SAT 7 NTS

✘
✘
✘
✘
NOVEMBER 2021
DATES


NIGHTS

BREAN SANDS




CAMBER SANDS




PRESTATYN SANDS




SOUTHPORT



All Prices below are based on 4 sharing a 1 Bedroom Self Catered Apartment
01-NOV


MON 4 NTS

✘
✘
✘
✘
05-NOV


FRI 3 NTS

✘
✘
£99
£99
06-NOV


SAT 7 NTS

✘
✘
✘
✘
08-NOV


MON 4 NTS

✘
✘
✘
✘
12-NOV


FRI 3 NTS

✘
✘
£89
✘
13-NOV


SAT 7 NTS

✘
✘
✘
✘
15-NOV


MON 4 NTS

✘
✘
✘
✘
19-NOV


FRI 3 NTS

✘
✘
£99
✘
20-NOV


SAT 7 NTS

✘
✘
✘
✘
22-NOV


MON 4 NTS

✘
✘
✘
✘
26-NOV


FRI 3 NTS

✘
✘
✘
✘
27-NOV


SAT 7 NTS

✘
✘
✘
✘
29-NOV


MON 4 NTS

✘
✘
✘
✘
TERMS & CONDITIONS
Terms & Conditions apply. E&OE. All places are subject to availability at the time of booking. Available for new bookings only. Pontins reserve the right to change/remove the offer, prices & entertainment without advance notice. Calls are charged at 13p per minute + your chosen phone company access charge. Rates are pre paid and non refundable. Prices are based on 4 persons sharing a 1 bedroom self-catered Standard apartment and do not include linen. Not all entertainment and activities are available on all Parks, check when booking to avoid any disappointment. Many activities are free, there is a small charge for some activities. Pontins reserves the right to change and or remove prices without prior notice. For all terms and conditions please ask at time of booking or visit www.pontins.com/terms-and-conditions/