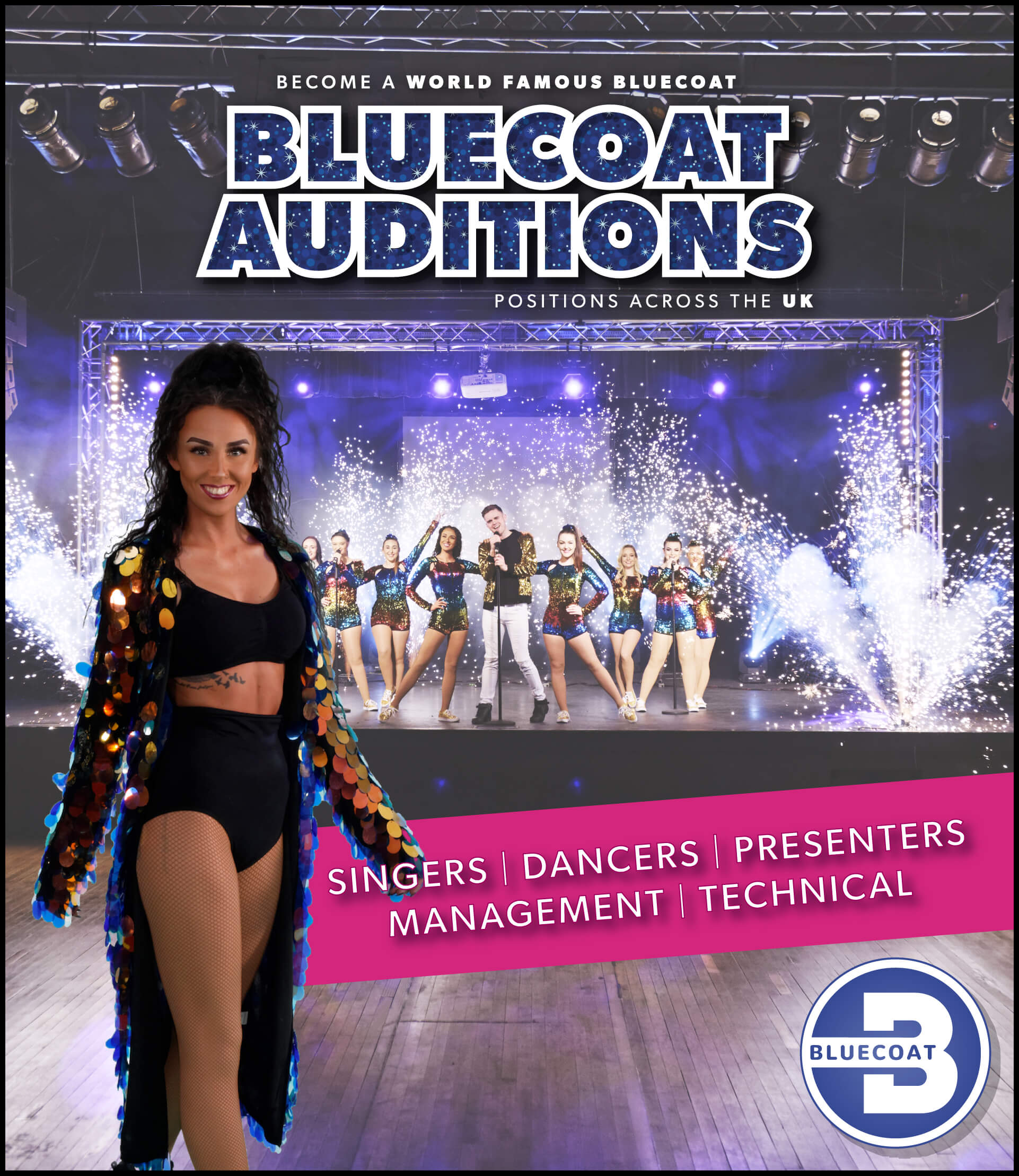 BECOME A WORLD FAMOUS BLUECOAT!
Singers / Dancers / Presenters & Entertainers
OPEN AUDITIONS – 2022
Perform on some of the biggest stages in the industry. We're seeking highly talented individuals to join our Entertainments teams around the UK in 2022. If you've got TALLENT, AMBITION, & a great PERSONALITY – then we'd like to work with you!
We're offering successful applicants:
Fixed Hours Seasonal Contracts of up to 11 Months
Starting Dates in FEB & MARCH
Summer Contracts are Available from JULY
Great Progression & Career Opportunities
Fantastic Company Benefits
Free Accommodation

Audition Dates
Tues 16th Nov – Dance Works – London W1K 6TN
Wed 17th Nov – The Station – Bristol BS1 2AG
Tues 23rd Nov – Dance Xchange* – Birmingham B61 0JB
Wed 24th Nov – Sachas Hotel – Manchester M4 1SH
Registration for all dates is from 11.00am with auditions starting at 11.30am. Application forms can be completed in advance using the link below – Or as you arrive.

Singers should prepare both songs from either of the groups below:

Male roles: Livin La Vida Loca (Ricky Martin) & Your Song (Moulin Rouge)
Female roles: Let's Get Loud (Jennifer Lopez) & Listen (Beyonce)

Dancers will be taught a set routine.
Presenters & Entertainers should prepare a short unique routine that best showcases their talent.

For more information & to PRE-REGISTER visit:
www.Pontins.com/auditions
Please view Social Distancing & *Testing Requirements online before you travel