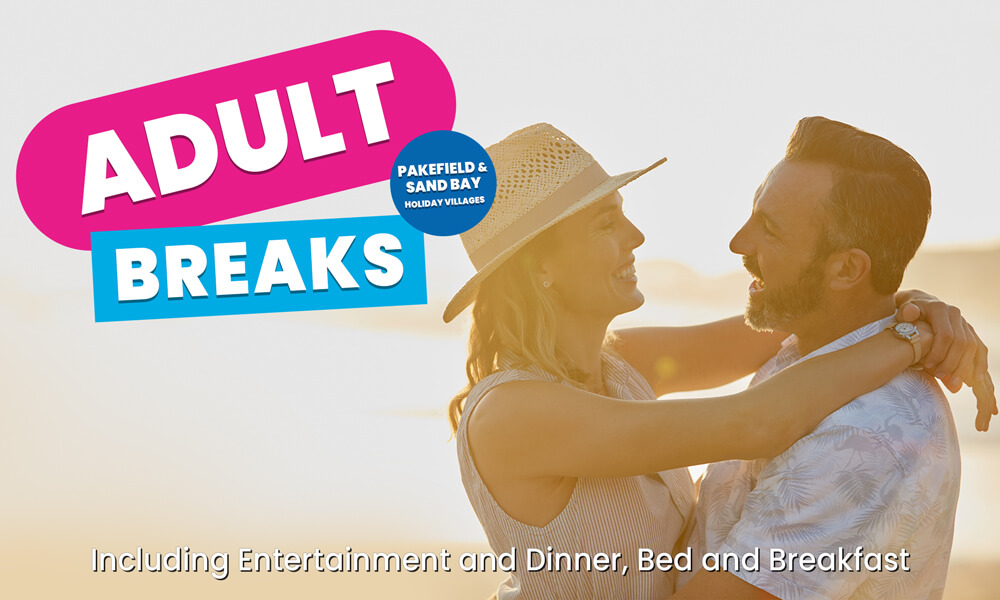 Book your break by the beach!
Adult Breaks with Pontins give you a chance to relax and enjoy some peace and quiet onsite site or catch some sun on the beach and with entertainment every evening you can be sure you won't be bored!
Our Holiday Villages are equipped with an array of brilliant facilities such as an indoor swimming pool and on-site restaurants serving quality food. We don't expect you to stay at the park during your entire stay, which is why we are proud to note that each and every Pontins park neighbours one of the UK's best beaches. You can take a dip in the sea, make a towering sandcastle, find some authentic fish and chips and still make it back in time to see what the Bluecoats have in store for you.
Pontins creates lasting memories without breaking your bank, so book your break and stay with us this year; we can't wait to see you.


– Featured Break –
DATES


NIGHTS

SAND BAY



23-JUNE


FRI 3 NTS

£55
Adult Breaks
Click prices in the tables below to book!
Please note
PRICES SHOWN ARE PER PERSON
- JUNE 2023 -
DATES


NIGHTS

PAKEFIELD




SAND BAY



Prices shown are per person for Half Board
2nd - JUN


FRI 3 NTS

✘
£129
5th - JUN


MON 4 NTS

£99
✘
9th - JUN


FRI 3 NTS

£99
£99
12th - JUN


MON 4 NTS

£99
£109
16th - JUN


FRI 3 NTS

✘
£129
19th - JUN


MON 4 NTS

£99
£109
23rd - JUN


FRI 3 NTS

✘
£55
26th - JUN


MON 3 NTS

£69
✘
26th - JUN


MON 4 NTS

✘
£119
29th - JUN


THU 1 NTS

✘
£45
BACK TO TOP
- SEPTEMBER 2023 -
DATES


NIGHTS

PAKEFIELD




SAND BAY



Prices shown are per person for Half Board
1st - SEP


FRI 3 NTS

£99
✘
4th - SEP


MON 4 NTS

£129
£119
8th - SEP


FRI 3 NTS

✘
£99
11th - SEP


MON 4 NTS

£99
£89
15th - SEP


FRI 3 NTS

✘
£109
18th - SEP


MON 4 NTS

£119
£89
22nd - SEP


FRI 3 NTS

£89
£99
25th - SEP


MON 4 NTS

£99
£89
29th - SEP


FRI 3 NTS

£89
£99
BACK TO TOP
- OCTOBER 2023 -
DATES


NIGHTS

PAKEFIELD




SAND BAY



Prices shown are per person for Half Board
2nd - OCT


MON 1 NTS

✘
£59
2nd - OCT


MON 4 NTS

£89
£89
6th - OCT


FRI 3 NTS

£125
✘
9th - OCT


MON 4 NTS

£109
£99
13th - OCT


FRI 3 NTS

£89
£105
16th - OCT


MON 4 NTS

✘
£105
20th - OCT


FRI 3 NTS

✘
£129
23rd - OCT


MON 4 NTS

£99
£129
27th - OCT


FRI 3 NTS

£99
£129
30th - OCT


MON 4 NTS

£129
£105
BACK TO TOP
- NOVEMBER 2023 -
DATES


NIGHTS

PAKEFIELD




SAND BAY



Prices shown are per person for Half Board
3rd - NOV


FRI 3 NTS

✘
£99
6th - NOV


MON 4 NTS

£89
£105
10th - NOV


FRI 3 NTS

£79
£99
13th - NOV


MON 4 NTS

£89
£105
17th - NOV


FRI 3 NTS

£79
✘
20th - NOV


MON 3 NTS

£79
✘
20th - NOV


MON 4 NTS

✘
£105
24th - NOV


FRI 3 NTS

✘
£99
27th - NOV


MON 4 NTS

£89
£105
BACK TO TOP
- APRIL 2024 -
DATES


NIGHTS

PAKEFIELD




SAND BAY



Prices shown are per person for Half Board
11th - APR


THU 1 NTS

£30
✘
BACK TO TOP

TERMS & CONDITIONS
Terms & Conditions apply. E&OE. All places are subject to availability at the time of booking. Available for new bookings only. Pontins reserve the right to change/remove the offer, prices & entertainment without advance notice. Calls are charged at 13p per minute + your chosen phone company access charge. Rates are pre paid and non refundable. Prices are per person and do not include linen. Not all entertainment and activities are available on all Parks, check when booking to avoid any disappointment. Many activities are free, there is a small charge for some activities. Pontins reserves the right to change and or remove prices without prior notice. For all terms and conditions please ask at time of booking or visit www.pontins.com/terms-and-conditions/