Big Night Out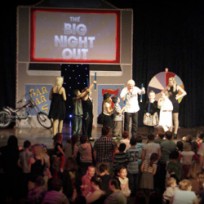 Presented by the superb Carl Johns, the Big Night Out has become a regular favourite at Pontins.
This mix of talent shows and game shows features lots of audience participation and excitement. Click the find out more button below to see video clips from last years Big Night Out shows.
Please note – due to the way our entertainment is scheduled we cannot guarantee any one act will appear on a certain date at a particular Holiday Park. The information contained in this Entertainment section is a general guide of acts appearing throughout the season across all our Parks. For further information please see our full terms and conditions.