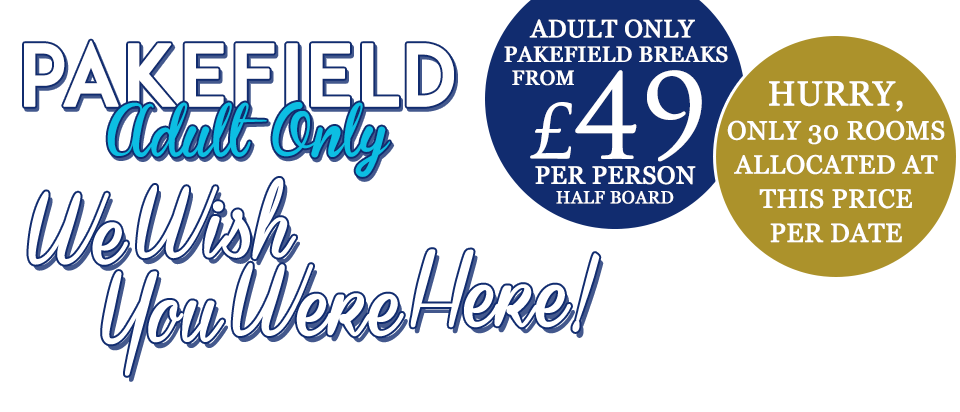 Pontins Pakefield Holiday Park – Limited Time Loyalty offer

Welcome to Pontins Pakefield Holiday Park
Set in the county of Suffolk. With wonderful sandy beaches and the famous
Norfolk Broads just two miles away, this is the perfect place to relax and unwind.
Each and every one of our adult-only themed breaks are built to cater just for your needs. We put our passion into every holiday we provide and our feedback proves just that. Aiming to provide you with that Home from Home experience you can enjoy Ground Floor accommodation for easy access, TV Access and shower facilities. Enjoy a Free bottle of wine and daily newspaper if you upgrade to Club.
Deciding to Stay at Pontins Pakefield is to choose to sit back, relax and be entertained. From the Seaview Bar overlooking the ocean or be entertained in Princes' Show Bar & The Stardust Cabaret Lounge. You could be looking for that perfect short escape in our entertainment breaks. Just looking for an adult only escape? Then our range of Select breaks will suit you perfectly, leaving you with wonderful moments to last a lifetime.
In 2016 we are offering you a wide range of Entertainment Breaks at Pakefield Holiday Park. All of our Entertainment breaks have been created based upon previous feedback! We have searched the world for the best entertainment and cabaret acts, bringing them all together just for you! Plus our Entertainment Breaks are adult-only and have half-board catering included! If you need help don't hesitate to get in touch, call us on 0871 222 0201.










All Breaks
▾
All Breaks
Entertainment Breaks
Select Breaks