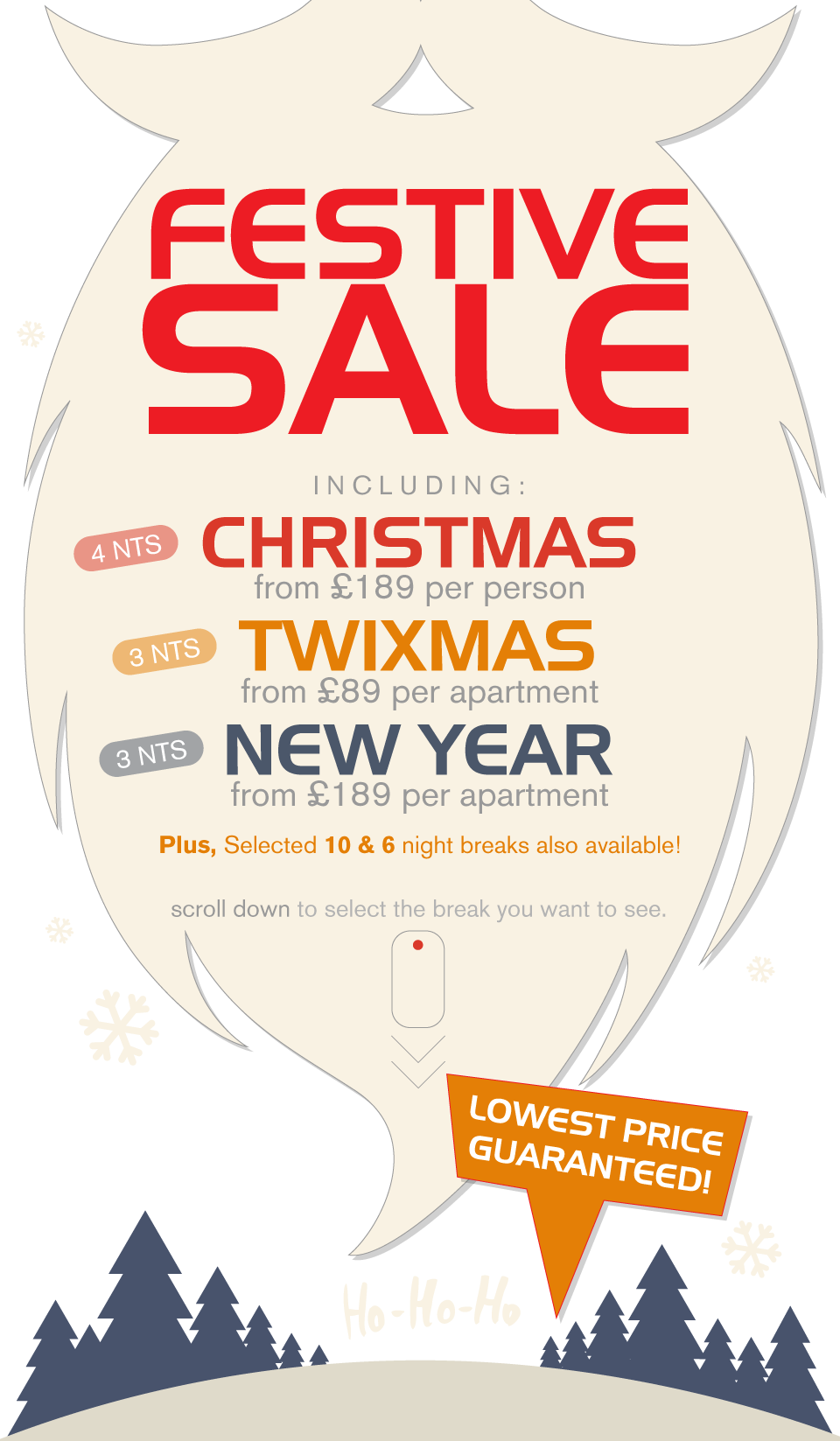 WELCOME TO THE PONTINS FESTIVE SALE!
That's right, for a limited time we are offering Christmas, Twixmas and New Year breaks at the very lowest prices, so why not book your 2017 Festive Break with Pontins while you can?

With our "Lowest Price Guarantee" and low deposit of just £10 there really is no better time to book and with our 2016 Festive Breaks being such a success they are bound to sell quickly.
To see availability, click the break that you want to see below or scroll down to see all available dates.
CHRISTMAS
4 & 10 Night Breaks – 23/12/2016
↓ Click prices in the table below to book ↓
Holiday Park

Date

Nights

Catering

Price From

All Prices below are per person based on 2 sharing a 1 bedroom half-board classic apartment.
Pakefield
(Half Price
Children)
23rd December
2017

4 nights

Half-Board

✘

Pakefield
(Half Price
Children)
23rd December
2017

10 nights

Half-Board

✘

All Prices below are per person based on 2 sharing a 1 bedroom full-board classic apartment. Sand Bay is Adult Only.
Sand Bay
(Adult Only)
23rd December
2017

4 nights

Full-Board

£259 pp
Sand Bay
(Adult Only)
23rd December
2017

10 nights

Full-Board

£459 pp
TWIXMAS
3 & 6 Night Breaks – 27/12/2016
↓ Click prices in the table below to book ↓
Holiday Park

Date

Nights

Catering

Price From

All Prices below are based on 4 sharing a 1 bedroom popular self catered apartment.
Brean Sands
27th December
2017

3 nights

Self Catered

✘

Brean Sands
27th December
2017

6 nights

Self Catered

✘

Southport
27th December
2017

3 nights

Self Catered

✘

Southport
27th December
2017

6 nights

Self Catered

✘

All Prices below are per person based on 2 sharing a 1 bedroom half-board classic apartment.
Pakefield
(Half Price
Children)
27th December
2017

3 nights

Half-Board

✘

All Prices below are per person based on 2 sharing a 1 bedroom full-board classic apartment. Sand Bay is Adult Only.
Sand Bay
(Adult Only)
27th December
2016

3 nights

Full-Board

£105 pp
NEW YEAR
3 Night Breaks – 30/12/2016
↓ Click prices in the table below to book ↓
Holiday Park

Date

Nights

Catering

Price From

All Prices below are based on 4 sharing a 1 bedroom popular self catered apartment.
Brean Sands
30th December
2017

3 nights

Self Catered

✘

Camber Sands
30th December
2017

3 nights

Self Catered

✘

Prestatyn Sands
30th December
2017

3 nights

Self Catered

✘

Southport
30th December
2017

3 nights

Self Catered

✘

All Prices below are per person based on 2 sharing a 1 bedroom half-board classic apartment.
Pakefield
(Half Price
Children)
30th December
2017

3 nights

Half-Board

✘

All Prices below are per person based on 2 sharing a 1 bedroom full-board classic apartment. Sand Bay is Adult Only.
Sand Bay
(Adult Only)
30th December
2017

3 nights

Full-Board

£189 pp
Terms & Conditions apply. E&OE. Subject to availability. Available for new bookings only. (Calls are charged at 13p per minute + your chosen phone company access charge). Not all acts will appear on all dates, please check at time of booking to avoid disappointment. All information is correct at the time of going to print, however, Pontins reserves the right to change or remove dates and prices without advance notice. For all terms and conditions please ask at time of booking or visit www.pontins.com/terms-and-conditions/