Accommodation at Pontins Southport Holiday Park
Planning a fun packed Holiday?
Below is an overview of the accommodation choices we have on offer with a general outline of the features, benefits and details you would expect.

*NB the photographs do not represent all apartments on the Holiday Park, apartments differ from room to room but this gives you a general idea. This footage contains a range of accommodation and facilities at each of our parks. It is not representative of all parks or accommodation types available.

You can usually upgrade your apartments from a Standard Apartment to a Club Apartment or why not treat yourself to one of our Bungalows which include a host of extras.
Pontins Southport:
With a host of activities and set in a fabulous location, book your holiday now!
Take a look through our accommodation overview and details below…
Club Apartments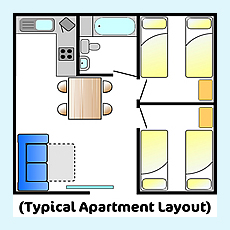 Our Club Apartments provide you with a host of additional benefits like free electricity. You also get the extra luxury of early check-in from 2pm just to make your stay more comfortable and convenient.
Club has a choice of 1 or 2 Bedroom Apartments.
Bathrooms: Three quarter length bath with shower over.
Club Extras-
Early Check-In from 2pm
Free linen for all occupied beds
Free Electricity included
Voucher for free bottle of wine
Voucher for daily newspaper
50% Off Leisure Activities between 10am and 12pm (subject to availability & outlet opening times)
Extras to be paid for:
*NB Towels are not included but can be purchased on the Park
Standard Apartments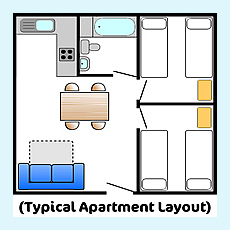 Our Standard Apartments offer you comfortable accommodation at an outstanding price. The Apartments include a fitted kitchen, private bathroom, lounge with TV. All our Standard Apartments have either 1 or 2 bedrooms, so they can sleep up to 4 or 6 people.
Standard has a choice of 1 or 2 Bedroom Apartments.
Bathrooms: Full length Bath, Toilet and Wash hand Basin.
More Details-
Check-In from 4pm
TV with limited channels
Fitted kitchen
lounge with TV
Private bathroom
Extras to be paid for:
Electricity
Bed linen
*NB Towels are not included but can be purchased on the Park
Extras
*Bed Linen from £10 per single bed, £12 per double bed (*If purchased at the time of booking)
All apartments – Travel Cot hire – £10 per cot (£20 Refundable Deposit charged as extra)
Club – Electricity included
Standard – Electric is paid for at the reception area and online via the QR code on the back of your key card.
Special Requests
If you require any extra pillows or bedding please ask at the Service Centre on the Holiday Park.
Ramps can be provided for access to all ground floor apartments, please ask at the time of booking or complete the Special Requests field when booking online.
At Southport Holiday Park there are a limited number of Standard Apartments that are fully adapted for guests with disabilities, which include a kitchen with lower level units and a fully adapted wet room facility in the bathroom, to find out more please visit Disabled Facilities page.

Self-Catering
Self-Catering Apartments consist of a Lounge with a Double fold out Bed settee, Kitchen, Bathroom and Bedrooms as above, with either Single beds or Bunk beds. The restaurant serves all you can eat breakfast buffet from only: adult – £6.95 *child £3.95, lunch from only: adult – £6.95 *child – £3.95 and three course evening meals from only: adult – £8.95 *child – £5.95. (*Children under 14 years of age). Price will increase dependent on the date of travel.
Half-Board
Half-Board option is available at Brean Sands Holiday Park. You will still have the facilities of a Self-Catering Apartment but you will enjoy your breakfast and an evening meal in the Restaurant and Vouchers will be issued on arrival.
Half-Board is available at a supplement at time of booking £15 per adult per night / £7.50 per child per night for children under 14 years of age.
Appliances in the apartments:
Fridge, kettle, toaster, 4 ring hob, cooker. Plus: *microwave where available.
With great on-park activities, restaurant, bars and fast food outlets you're sure to have a
fun packed holiday!
Southport Bungalow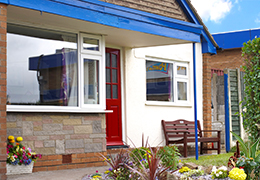 Our Southport Bungalow is set close to all the venues at the Park, with landscaped gardens to the front and rear, the back garden is enclosed with a gate. The Bungalow has a newly designed living area and just down the hallway we have a fully fitted kitchen with a dishwasher, washing machine, oven, microwave, kettle and toaster. The master bedroom has a double bed with flat screen TV and fitted wardrobes. We then move to the second, this has two single beds and wardrobes, and the third bedroom is fitted with a bunk bed. We also have a new bathroom which has a fully fitted bathroom suite. To reserve your Bungalow phone: 0871 222 0201 (Please note: Calls are charged at 13p per minute + your chosen phone company access charge.) to arrange your dates.
Additional benefits:
Early Check-In from 2pm
We make the beds up for you before you arrive
Daily Newspaper
Voucher for a free bottle of wine
50% discount on all Leisure Activities between 10am and 12pm
Allocated car parking
Free Electricity included
Linen included
To reserve your Bungalow phone: 0871 222 0201 Please note: Calls are charged at 13p per minute + your chosen phone company access charge.
Disabled Facilities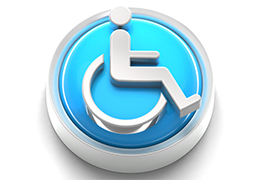 We have apartments on the ground floor with more accessible facilities.
At Pontins we aim to ensure that all guests with disabilities are able to stay with us and have a great time. However accessibility can only really be assessed according to an individual's personal needs and requirements. While we cannot guarantee an environment that provides "access for all",we aim to provide an environment that is relatively accessible and there are a number of ways we can help.
To find out more please click the link here:
*Please note images of apartments are representative, apartments do vary from room to room and each of the Holiday Park's.
Food, Beverage and Shopping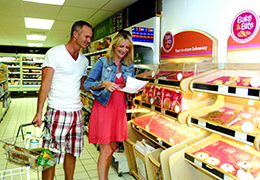 For all your food, beverage and shopping information:
At Pontins we have many facilities for eating and drinking over your holiday. There is a main restaurant at each park and then various food outlets and in addition to this on each Park there is a Nisa Local general shopping store.
To find out more please click the link here:
New Bed Linen Procedure:
We have changed our arrangements for bed linen in the apartments. We are now offering 2 options to choose from when booking your next family holiday.
Option 1
For a one-off charge of just £10 for each single bed and £12 per double bed when you pre-purchase alongside booking your holiday and they're yours to keep*.
Option 2
Do you prefer to bring your own bed linen? Not a problem, simply bring your own and make your apartment feel like home.
Linen packs include:
Pillow case(s)
Bed sheet
Duvet cover
(Please note: you can't take home the duvets and pillows.)
Purchase a linen pack when you book and save.
Linen packs purchased on park will be subject to availability, prices may differ to those pre booked online.
Ensure you book your linen at the time of booking your holiday to receive the pre-book discount price.
Please note: towels are not provided in the apartments, but are available for purchase on park if you forget your own.