Jamie Sutherland
Stand Up Comedian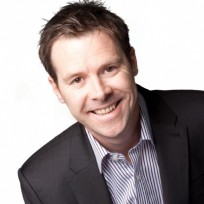 One of the freshest, original acts to emerge in the last few years, Jamie has truly established himself on the comedy circuit
A very original act, who will keep you amused with gags, tales, and stories. Liverpool born Jamie is a modern act, with many observational topics, and up to date material, and dont worry if you prefer a good old style gag, he has plenty of them thrown in, ensuring a performance that will touch everyones buttons.
Jamie is one of only a few comics that can tailor his performance to suit your audience, extremely popular with corporate clients, and hes equally at home performing to crowds at his nearby social club.
He can be seen regularly at Brinsop Comedy Club, Bolton, were he has been resident compere since Nov 2005, he has supported some of the biggest names in comedy, and has gained a reputation as one of the rising stars of comedy with the sell out crowds, and his fellow comedians.
Please note – due to the way our entertainment is scheduled we cannot guarantee any one act will appear on a certain date at a particular Holiday Park. The information contained in this Entertainment section is a general guide of acts appearing throughout the season across all our Parks. For further information please see our full terms and conditions.