Knockout Roadshow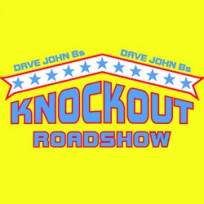 A challenging team event based on the popular 70's TV game show, 'It's a Knockout'. Who could forget Stuart Hall's howls of laughter?
Dave John B's 'It's a Knockout' provides Unbeatable Roadshow Entertainment. The only outfit to incorporate Themed Disco Roadshow entertainment, no other It's a Knockout show in the world comes close to Dave John B's presentation style. Experienced DJ and up to five comperes provide a running commentary of hilarious events as they unfold on the field keeping participants and spectators entertained and engaged throughout.
Please note – due to the way our entertainment is scheduled we cannot guarantee any one act will appear on a certain date at a particular Holiday Park. The information contained in this Entertainment section is a general guide of acts appearing throughout the season across all our Parks. For further information please see our full terms and conditions.