Melton Mowbray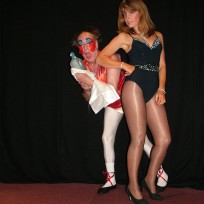 A great mix of comedy and illusion and in typical clown style it all seems to go hilariously wrong.
Melton Mowbray's silent comedy is best described as an amalgam of the talents of George Carl and Tommy Cooper, with the sort of Frankie Howerd indignant facial expressions that make the sight gags and spoof magic explode into life. An hilarious ambiguity exists in the relationship between the two onstage here and the result is pure magic, just as the magic is pure theatre.
Please note – due to the way our entertainment is scheduled we cannot guarantee any one act will appear on a certain date at a particular Holiday Park. The information contained in this Entertainment section is a general guide of acts appearing throughout the season across all our Parks. For further information please see our full terms and conditions.