Nicola Marie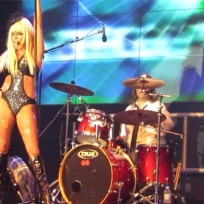 The Voice
Nicola's voice is simply the voice of Gaga!!!
The strength, the quality, the range & power are from another planet.
Plus completely LIVE!!! Yes – live!
The Moves
Nicola's dancing ability is jaw droppingly sensational with high kicks, drop splits and amazing dance routines.
Nicola's choreography skills truly stand out in this master piece. She fires through her show with such precision and flare with bang on routines to those of Gaga's.
She explodes with exuberance and energy on stage.
The Person
Lady Gaga is said to be weird, freaky and a little crazy. If you know Nicola, you will know there is no one more suited to the role. Authentic to the core "welcome to the Gaga Haus" …of Nicola Marie
Please note – due to the way our entertainment is scheduled we cannot guarantee any one act will appear on a certain date at a particular Holiday Park. The information contained in this Entertainment section is a general guide of acts appearing throughout the season across all our Parks. For further information please see our full terms and conditions.