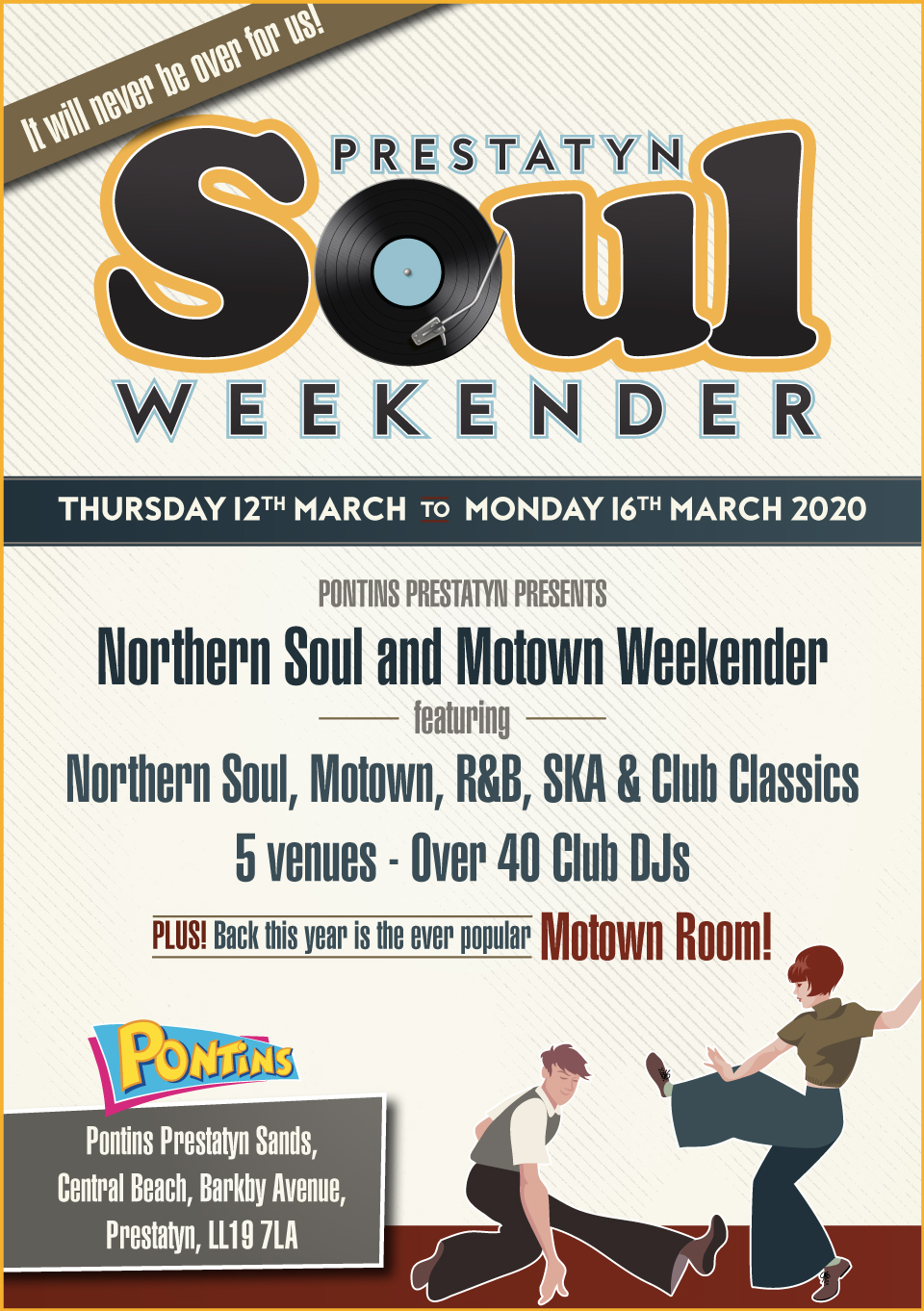 The Prestatyn Soul Weekender
At Pontins Prestatyn
"It will never be over for us!"
The Pontins Prestatyn Soul Weekender will be held between 12th and 16th March 2020 for an amazing 4 night break, with five venues of Northern Soul, R&B, SKA, Club Classics and making its return is the ever popular Motown room!!.
Previous events have attracted over 2,500 soul fans from all parts of the UK and Europe – Enjoy our very special national soul get together with 4 days and nights of unbeatable classic and currently popular Northern Soul, Motown, R&B, SKA and Club Classics.
We have a top lineup of Club DJs, with over 40 DJ's playing in FIVE fantastic venues.
We are pleased to be able to offer great value and quality self-catering deals in all of our popular, classic and club standard apartments, with prices starting from as little as £44.83 per person for a 4 night stay!
Early Booking Offer – Book Now With Just A £20 Deposit*
For 2020 we have an amazing Early Booking Offer with exceptionally good value prices
Prices are valid until 31st August 2019
Apartment Type
Sleeps Up To
Apartment Price
Per Person Price
Book Online
To book, simply click on the prices within the table below!
All Prices below are based on a self catered apartment.

Club

4 People

£349

£87.25pp

Click To Book

6 People

£429

£71.50pp

Click To Book

Classic

4 People

£239

£59.75pp

Click To Book

6 People

£329

£54.83pp

Click To Book

Popular

4 People

£199

£49.75pp

Click To Book

6 People

£269

£44.83pp

Click To Book

Studio

4 People

£139

£69.50pp

CALL
TO
BOOK
*Remaining £30 deposit due 31st August 2019. Final balance due 56 days prior to event start date.
Standard prices from 1st September 2019
Apartment Type
Sleeps Up To
Apartment Price
Per Person Price
Book Online
To book, simply click on the prices within the table below!
All Prices below are based on a self catered apartment.

Club

4 People

£399

£99.75pp

Click To Book

6 People

£479

£79.83pp

Click To Book

Classic

4 People

£289

£72.25pp

Click To Book

6 People

£379

£63.16pp

Click To Book

Popular

4 People

£249

£62.25pp

Click To Book

6 People

£319

£53.16pp

Click To Book

Studio

4 People

£159

£79.50pp

CALL
TO
BOOK