Re Abba
Tribute Due Show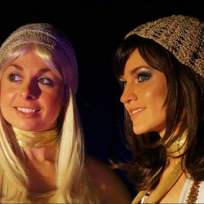 Born out of a genuine love for the great music and iconic retro image of ABBA, Tamsin Killen introduces her stunning new ABBA show, R-Abba. In what is a crowded and competitive tribute market it's important for clients and agents alike to find the acts that really stand out for quality, talent and real world value and Re-ABBA shine as a truly exceptional act. Using her theatre training and 10 years experience in top quality production shows for the worlds top cruise lines and Thomson's 5 star Sensatori Resorts, she has created a show that is stunning to watch and totally authentic sounding.
Along with Lorna Amy Sullivan who has toured the UK in ABBA theatre shows and Dreamboats and Petticoats they have the beauty, glamorous costumes and amazing dance routines to bring this great music to life and thrill any audience. Months of painstaking work have been put in to ensure the vocals and harmonies are not only passionate and powerful, but totally true to the original amazing ABBA sound. You only have to watch Re-Abba's promo video to see the level of quality and polish that the girls have. In addition to this they place a strong emphasis on audience participation and humour that is the true secret of making a show like this capture an audience and give them the best night possible!
There are a lot of ABBA tributes to choose from so if you want the best and to make your evening one to really remember then RE-ABBA are as good as it gets!
Please note – due to the way our entertainment is scheduled we cannot guarantee any one act will appear on a certain date at a particular Holiday Park. The information contained in this Entertainment section is a general guide of acts appearing throughout the season across all our Parks. For further information please see our full terms and conditions.