Per Apartment!

SUMMER BREAKS
FROM JUST £79 PER FAMILY!!
– –
THAT'S LESS THAN £10PPPN!

– –

Make the most of your summer by bringing the whole family on a fun packed break to Pontins, bursting with entertainment and activities for everyone. Right now Pontins are giving readers the opportunity to book a fantastic family break this summer from less than £10 per person per night!

Pontins has a spectacular programme of entertainment that runs almost non-stop from morning to night, featuring performances from X Factors Reggie n Bollie, 4th Impact, Ryan Lawrie & Yes Lad plus Britain's Got Talent star Ricky K! There will be live Bluecoat & Character shows, magic & wrestling shows plus kids favourites The Sooty Show & Theo the Mouse.

There are tons of activities including indoor & outdoor play areas, go karts, skate parks and trampolines as well as crazy golf and a heated indoor swimming pool!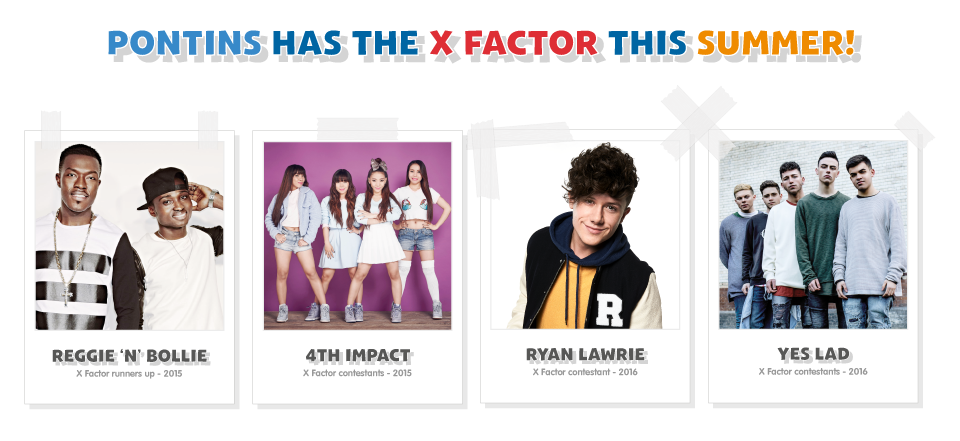 2 NIGHT BREAKS
Park
30-June
Fri 2nts
01-June
Sat 2nts
07-July
Fri 2nts
08-July
Sat 2nts
14-July
Fri 2nts
15-July
Sat 2nts

Brean

✘
✘
✘
✘
✘
✘

Camber

✘
✘
✘
✘
✘
✘

Prestatyn

✘
✘
✘
✘
✘
✘

Southport

✘
✘
✘
✘
✘
✘
2 NIGHT BREAKS
Park
21-July
Fri 2nts
22-July
Sat 2nts
28-July
Fri 2nts
29-July
Sat 2nts
04-Aug
Fri 2nts
05-Aug
Sat 2nts

Brean

✘
✘
✘
✘
✘
✘

Camber

✘
✘
✘
✘
✘
✘

Prestatyn

✘
✘
✘
✘
✘
✘

Southport

✘
✘
✘
✘
✘
✘
2 NIGHT BREAKS
Park
11-August
Fri 2nts
12-August
Sat 2nts
18-August
Fri 2nts
19-August
Sat 2nts
25-August
Fri 2nts
26-August
Sat 2nts

Brean

✘
✘
✘
✘
✘
✘

Camber

✘
✘
✘
✘
✘
✘

Prestatyn

✘
✘
✘
✘
✘
✘

Southport

✘
✘
✘
✘
✘
✘