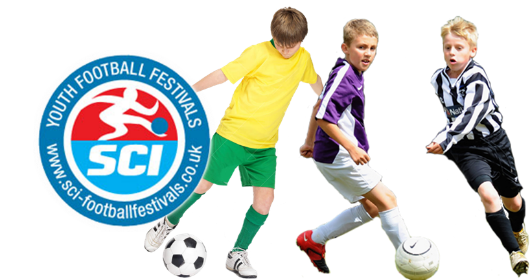 SCI Football Festivals
Welcome to the SCI Youth Football Festivals Programme.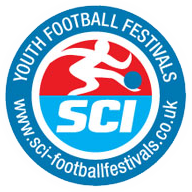 SCI Football Festivals is now entering into it's 19th season and continues to go from strength to strength. Over 100,000 people have joined SCI at our festivals located in England & Wales in the past 18 years, with teams travelling from all over the United Kingdom and Eire to participate in our prestigious events. We look forward to welcoming your team to one of our events.
SCI Commitment to Youth Football
We pride ourselves on being the leaders in Youth Football and know the importance of safety and welfare for the young people attending our Festivals. Our staff have attended and completed the F.A. Safeguarding Children Workshop and every Festival will have a member of SCI who has completed the F.A. Child Welfare Officer Workshop.
NEW – FA RESPECT BARRIERS
SCI is committed to following FA Guidelines on youth football and with this in mind we are introducing respect barriers at all of our SCI Youth Football Festivals. This will create a great playing atmosphere for all players to enjoy their football in.
9-A-SIDE FOOTBALL INTRODUCED BY SCI
Here at SCI we are fully committed to introducing new concepts from the F.A, this has led to us introducing 9-a-side football for boys under 11's & 12's teams at a few of our venues across the UK. All matches for the NEW 9-a-side concept will follow the F.A guidelines, and the pitches will of course be complete with the F.A respect barriers!!
Call us today on 01305 768555 to find out how you can join SCI for a great end of season Youth Football Festival experience.
With SCI your team can expect Professional Event Organisation, Experienced Festival Directors & Staff in attendance, Superb Pitches, Mitre Ultimatch footballs, Official Referees plus the brilliant SCI Football Celebrity Presentation Evening where every single player receives a trophy & gets to meet a top football personality – truly A Night to Remember!
SCI Youth Football Festivals really are for the whole family. Everyone is welcome with SCI!
SCI Football Festivals & Tournament Directors: Paul & Roger Broadhead Paul & Roger Broadhead SCI Youth Football Festivals Directors
Pontins Southport Holiday Park
Over 70 teams took part in the Inaugural SCI Southport Mitre Ultimatch Cup in 2012, making the event one of the largest festivals in the UK on Easter Weekend.
The festival attracted teams from Scotland, Wales, England, Eire & Northern Ireland, & all matches are played at one location at Meols Park.
The festival at Southport caters for Boys & Girls teams in the Under 7's to Under 17's age groups, & attracted up to 9 teams per age group in 2012.
Pontins Park
Southport Holiday Park is constantly changing with Pontins updating all accommodation during 2012. The park offers many activities for the family to enjoy including the Indoor Heated Pool, complete with Water Walkerz & Inflatables, plus outside activities including Go-Karts, Crazy Golf & Giant Inflatable Obstacle Courses.
After dark choose from a host of great family entertainment options including glittering Cabaret Acts, Top Tribute Bands, Karaoke, & Pontins Spectacular Blue Coat Shows.
HALF-BOARD – is available at Southport at an additional cost for the weekend, which includes breakfast & evening meal for 3 nights. Please check the cost at your time of booking.
Fantastic Value For Money from Pontins!!

New Game-Zone Southport
PRESENTATION EVENING
One of the highlights of every SCI Youth Football Festival is the Celebrity Presentation Evening on the Sunday night at Pontins where every single player goes on stage to receive a memento from a famous footballing personality. SCI were delighted to welcome former Liverpool & Eire Legend John Aldridge to the presentation at Southport in 2012.
Who will be the guest in 2013!
Pontins Brean Sands holiday Park
Join SCI for the 20th Brean Sands Mitre Ultimatch Cup, our festivals at Brean Sands are quite simply Legendary!! Brean Sands gives you Sand, Sea & Somerset. With some of the most stunning beaches and glorious scenery no wonder they call it the "Jewel of the South-West".
The SCI Brean Sands Mitre Ultimatch Cup is one of the UK's Longest Running Youth Football Festivals. Since SCI launched the event way back in 1994 over 1350 teams have participated in this Flagship Event, be sure to book early for 2013!!
The festival runs over the ever popular Spring Bank Holiday Weekend where all matches take places on superbly prepared pitches at Berrow Boys Football Club & at Drove Park in close by Weston-Super-Mare – Legendary!!
SCI – NO. 1 FOR GIRLS FOOTBALL!
Girls football is an established & integral part of the SCI Brean Sands Mitre Ultimatch Cup. Teams travel from all across the UK to participate in this fantastic event which in 2012 saw Girls teams attend from Birmingham, Berkshire & Teeside to name a few. The 20th SCI Brean Sands Mitre Ultimatch Cup sees SCI offering Girls football in the Under 10's – Undr 16's age groups on a 7-a-side basis.
Pontins Brean Sands Holiday Centre Has a full line up of fun activities for everyone including Captain Croc's Adventure Land for the little ones, the thrilling outdoor Adventure Playground, ever popular Go-Karting, Snooker, Pool & Crazy Golf for the bigger ones plus action and excitement in the H2O Zone Heated Indoor Pool After dark, choose from a host of great family entertainment including glittering Cabaret Acts, Top Tribute Bands, and Pontins very own Spectacular Bluecoat Shows. Pontins is also situated just a stone's throw away from glorious sandy beaches and the all action Brean Leisure Park which boasts over 40 fantastic fun fair rides.
In 2012 we were delighted to welcome Ex-Arsenal, Celtic, West Ham United & Wales Striker John Hartson to Brean Sands to award the trophies to all participants. Other past guests at Brean Sands have included Chris Kamara, Peter Shilton & Helen Chamberlain.
LATEST PONTIN'S NEWS FOR 2012/13
Pontins has been undergoing major transformations over the past 12 months with Brean Sands receiving a multi-million pound investement. The park has now had all apartments redecorated, new curtains and flooring in most apartments, plus 133 Brand New apartments have been added to the resort in addition to brand new beds throughout. The refurbishment has also seen two entertainment venues undergo a full refurbishment in addition to the Queen Vic Pub, as well as the restaurant. You can be sure of a great time at Pontins, Brean Sands in 2013!!
Pontins Prestatyn Holiday Park

New Game-Zone for Pontins Prestatyn Holiday Park
Teams travel from far and wide to compete in the Prestigious SCI Prestatyn Mitre Ultimatch Cup each and every year. The 2012 event saw teams from England, Scotland, Wales, Eire, Northern Ireland & Norway compete at the festival. Boys Football is played at St Asaph & Y-Morfa Leisure Centres, & in 2012 we also introduced a new football venue to the festival with the addition of Welsh Premier League Ground – Prestatyn Town F.C.
SCI – No1 for Girls Football!!
Since the launch of the Girls Football section at Prestatyn in 2008 over 250 Girls teams have competed in our festivals at Prestatyn. The 2012 Girls festival at Prestatyn saw over 30 girls teams participate & even included 2 teams who travelled all the way from Norway to take part. The SCI Girls Football Tournaments in North Wales are now recognised as two of the UK's Premier Girls Football Events with their excellent setup and facilities adding to the enjoyment of the weekend. All Girls football is played at Y-Morfa Leisure Centre. If you are looking for a Girls tournament for 2013 then be sure to join SCI at Prestatyn for what will truly be a Great Festival Experience.
Half-Board
Worried about feeding your team? Pontins, Prestatyn Sands offers a Half-Board option for the weekend and includes breakfast & a three course evening meal each day. Located in North Wales, Pontins, Prestatyn Sands, is a fast paced holiday centre with a fun atmosphere & full on entertainments programme with activities for all ages including Captain Croc's Adventure Land for the little ones, Snooker, Table Tennis & Basket Ball for the bigger ones plus, action and excitement in the H20 Zone Heated Indoor Pool. After dark choose from a host of great family entertainment options including glittering Cabaret Acts, Top Tribute Bands, Karaoke & Pontins spectacular Bluecoat Shows!
Pontins has also undergone a major transformation in 2012/13 with accommodation being refurbished throughout the holiday park.
SCI Football
www.sci-footballfestivals.co.uk
Visit website