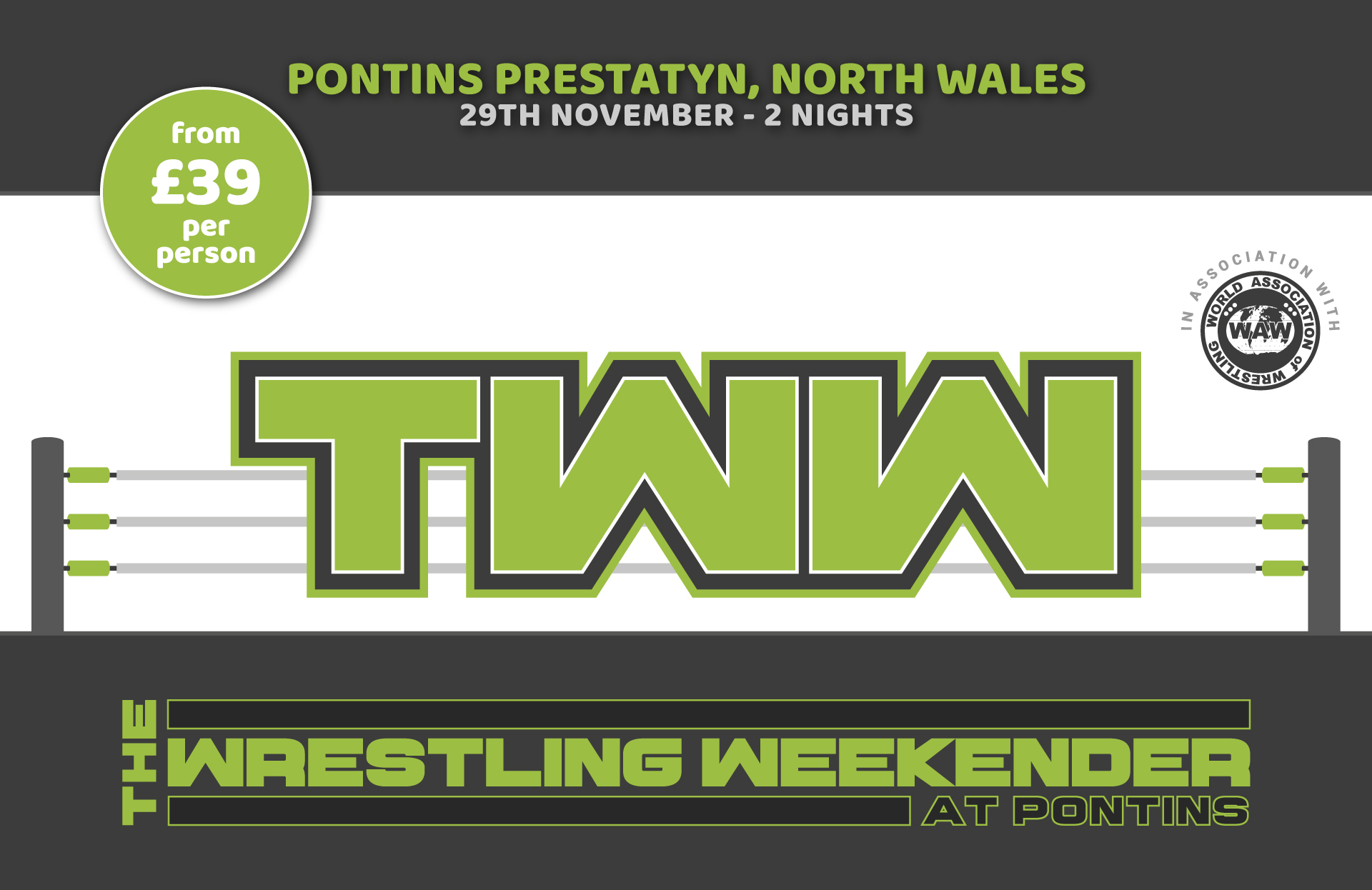 THE WRESTLING WEEKENDER AT PONTINS, PRESTATYN!
A fun weekend for all the family, from toddlers to grandmas… this is one not to be missed!
Brand new for 2019 we are bringing an action-packed weekend of wrestling to Pontins Prestatyn Sands.
We have a STAR studded line up including WWE Legends – Mick Foley and Booker T, Impact Wrestling Knockout Su Yung and former TNA World Champion James Storm. Also joining us for the whole weekend is UK wrestling royalty 'The Knight Family', you will know them as the stars of the 2019 blockbuster 'Fighting with my Family'! A film based on the megastar WWE's Paige! The entire event is in association with WAW (the World Association of Wrestling) and their entire roster will be at the weekender.
On Friday night's show we have a huge tournament in which we will crown the FIRST EVER 'TWW Champion'!!
On Saturday afternoon we are joined by the one of the top woman's wrestling companies in the world 'Bellatrix Female Warriors'! The owner of which is the mother of WWE's Paige and voted one of the toughest female wrestlers in the world 'Sweet' Saraya Knight. A hard hitting show not to be missed!
Saturday night is our Super Show featuring wrestling legends, show stealing matches, ladder matches as well as many more HUGE matches to be confirmed.


TWW STARS!
MICK FOLEY

Mick Foley became one of WWE's most unlikely success stories under the guise of three distinct personas — the unpredictable Cactus Jack, the demented hippy known as Dude Love and everyone's favorite mental patient, Mankind. These "three faces of Foley" were dangerously unique, but all shared a common trait — a willingness to always go one step too far. Foley lived through sports-entertainment's most shocking moment when he was thrown off the top of the Hell in a Cell by The Undertaker.
BOOKER T

Booker T is an 11-time WCW Tag Team Champion, a six-time World Champion, winner of the 2006 King of the Ring Tournament and the man responsible for popularising the word, "Sucka!" in sports-entertainment. He also bears the distinction of holding the WCW World Heavyweight Championship when the promotion folded in 2001.
From the moment he stepped into the WWE ring, Booker T Spinaroonied his way into Superstardom, tangling with a who's who of squared circle greats, including "Stone Cold" Steve Austin, The Undertaker, John Cena, Triple H, Randy Orton, Batista, Rey Mysterio, Ric Flair, Christian, Mark Henry and many others. Now a color commentator for Monday Night Raw, Booker's legacy was forever cemented when he was inducted into the WWE Hall of Fame as part of the Class of 2013.
JAMES STORM

Primarily a tag team wrestler, Storm has held 14 tag team championships during his time with TNA, winning the NWA World Tag Team Championship a record seven times and the TNA World Tag Team Championship a record seven times, mostly as a member of the tag teams America's Most Wanted, alongside "Wildcat" Chris Harris, and Beer Money, Inc., alongside Bobby Roode. In October 2011, Storm won his first World Title, when he defeated Kurt Angle to win the TNA World Heavyweight Championship.
BILLY GUNN

Billy Gunn is an American professional wrestler currently working for All Elite Wrestling (AEW) as a producer. Gunn is best known for his appearances in the World Wrestling Federation/Entertainment (WWF/E) from 1993 to 2004 and from 2012 to 2015. He also served as a coach on WWE's Tough Enough and was a trainer in its developmental branch, NXT. He is also known for his appearances with Total Nonstop Action Wrestling (TNA) from 2005 to 2009.
Primarily a tag team wrestler, Gunn is a total 11-time tag team champion in WWE with three different partners (with Bart Gunn as The Smoking Gunns, with Road Dogg as The New Age Outlaws, and with Chuck Palumbo as Billy and Chuck). He is also a one time WWF Intercontinental Champion and a two time WWF Hardcore Champion, giving him 14 total championships in WWE. He is the 1999 King of the Ring winner. He was inducted into the WWE Hall of Fame (Class of 2019) as part of D-Generation X.
SU YUNG

Su Yung is dark, mysterious and dangerous. Su has wrestled for Shimmer Women Athletes, Shine Wrestling and is currently in the Knockouts of IMPACT Wrestling. When Su arrived to IMPACT Wrestling, she immediately went after the Knockouts Champion Allie and took her out with her devastating signature move, "the Panic Switch," sending a chill down the spine of every other Knockout in IMPACT Wrestling.


WEEKENDER APARTMENT
& PER PERSON PRICES
Below you will find a list of all the prices for The Wrestling Weekender. To book, simply click the "Click To Book" link for the appropriate apartment type and number of people.
CLICK THE LINKS BELOW TO BOOK!
OFFER CODE: TWCM


TERMS & CONDITIONS
E&OE. All places & upgrades are subject to availability at the time of booking. New Bookings Only, Rates are pre paid and non refundable. Prices are based in a self-catering upper floor apartment for 2 Nights. £39 per person based on 2 bed, Popular apartment, sleeping 6 people. Pontins reserves the right to change/remove promotions without prior notice. Named acts & Activities are scheduled to appear/take place, but are subject to change without prior notice. Bed Linen, Towels & Electricity are not included (linen & electric included in Club options only). Calls are charged at 13p per minute + your chosen phone company access charge.

For all other terms and conditions visit www.pontins.com/terms-and-conditions/ or ask at time of booking.