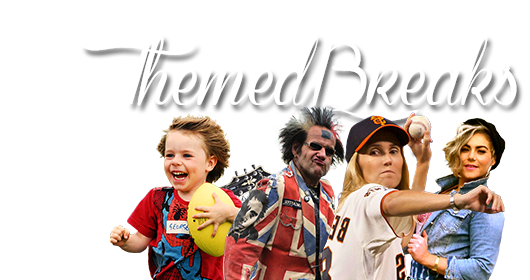 Themed Weekend Breaks Holidays and Weekends Away
Here at Pontins we are always trying to bring you the very best Holidays and Breaks, with that in mind we have created our new entertainment breaks!
Find your perfect getaway for themed weekend breaks and weekends away at Pontins here we have a variety of themed breaks and low cost holidays . We have new themed breaks and weekends away coming up at Pontins Holiday Parks throughout the year we are adding more and updating the pages. We have Music Breaks, Sports Breaks, Dance Breaks and special interest breaks, plus cheap weekend break deals. Some of the breaks are organised by Pontins and some are booked via the third party organisers each of the event pages gives the information available for you to book your Themed Break.
Dates
Event
Details
Duration
Ents
Info
Price
Fri 16th Jun
2023

Southport

48 Hour Party - 90's & 00's Weekender

Adult Only Entertainment Breaks Featuring Huge Names

Southport Self Catered See More Info for Price Information




2 Nights
More Info
£88.50

*

Fri 30th Jun
2023

Camber Sands

48 Hour Party - 90's & 00's Weekender

Adult Only Entertainment Breaks Featuring Huge Names

Camber Sands Self Catered See More Info for Price Information




2 Nights
More Info
£88.50

*

Fri 7th Jul
2023

Prestatyn Sands

48 Hour Party - 80's Weekender

Adult Only Entertainment Breaks Featuring Huge Names

Prestatyn Self Catered See More Info for Price Information




2 Nights
More Info
£73.50

*

Fri 8th Sep
2023

Camber Sands

48 Hour Party - KIKI Weekender

Adult Only Entertainment Breaks Featuring Huge Names

Camber Sands Self Catered See More Info for Price Information




2 Nights
More Info
£51

*

Fri 15th Sep
2023

Southport

48 Hour Party - 80's Weekender

Adult Only Entertainment Breaks Featuring Huge Names

Southport Self Catered See More Info for Price Information




2 Nights
More Info
£88.50

*

Fri 3rd Nov
2023

Southport

48 Hour Party - Ultimate Party Weekender

Adult Only Entertainment Breaks Featuring Huge Names

Southport Self Catered See More Info for Price Information




2 Nights
More Info
£73.50

*

Fri 10th Nov
2023

Camber Sands

48 Hour Party - Ultimate Party Weekender

Adult Only Entertainment Breaks Featuring Huge Names

Camber Sands Self Catered See More Info for Price Information




2 Nights
More Info
£58.50

*
Price basis may vary by event and dates. More details can be found on each event page with relevant catering and nights included.
Drink discounts apply to selected drinks at selected times on dates shown, subject to managers discretion. Subject to Availability.
Sand Bay Single Supplement & Club Upgrade cost – £15 per room, per night each.
Pakefield Single Supplement & Club Upgrade cost – £10 per person, per night each.
Prices for supplements and upgrades on all other parks vary by event and date.
£15 Second Bedroom Supplement Charge at some parks.
Full Terms & Conditions can be found online at www.pontins.com/terms-and-conditions/