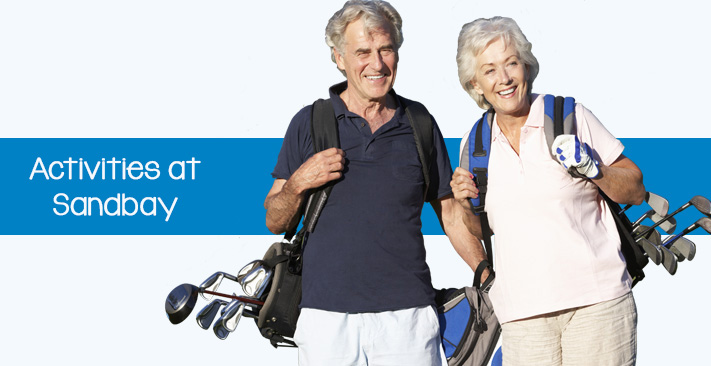 Fun Activities at Sand Bay Holiday Village
Activity
Details
Activity
Details
Activity
Details

Amusement Arcade

Fancy sitting back and playing some games, then visit the Pontins Amusement Arcade, where you can enjoy some of your favourite gaming past times.

Ballroom & Sequence Dance

Now it's time to realise those dreams and conquer the dance floor! Follow our approach to mastering the skills of Ballroom and Sequence Dance.

Bingo

Eyes down for nightly Adult Bingo fun. Top prizes on offer!

Bluecoat Shows

Fabulous entertainment for all the family. A stay at Pontins isn't complete until you have seen a show, there is plenty to choose from!

Board Games

Test your board game luck and competitive nature against your friends and family with our great selection of board games.

Crazy Golf

Crazy golfing fun for all the family… Can you make a hole in one?

Pitch & Putt

Enjoy a spot of Pitch and Putt. This a game for the whole family which can be fun or competitive!

Darts

On the Oche! Go for the 180 or even shoot a Bullseye!

Hoy

Hoy is a simple bingo like game to play in groups. The idea is for someone to match all their cards on their sheet to the cards the dealer turns over. Can you become a winner?

Indoor Heated Swimming Pool

It's heated… it's indoors… whatever the weather you are guaranteed to have a fantastic relaxing time in our heated indoor swimming pool.

Karaoke

We love Karaoke at Pontins and for that reason we want everyone to enjoy it with us. We have Late Night Karaoke and Kids Karaoke so whatever your age, we would love to hear you sing.

Late Night Disco

Dance the night away at the famous Pontins disco.

Live Cabaret

Glittering cabaret acts for all to enjoy!

National and Adult Cash Bingo

National Cash is played live twice a day, every day, at 2.00pm and 7.30pm Mark off your numbers as they are called, and call full house within 45 numbers or less to win a guaranteed £5,000 jackpot.

Queen Vic

Join the Bluecoats in the Queen Vic daily for traditional pub fun, from 12pm!

Table Tennis

Fun for the whole family, Compete on your own or join up for a game of pairs!

Pool Tables

Why not have a game of pool on one of our tables. Who's going to pot the black first?

Snooker

Snooker is available at all parks. Are you the next Ronnie O'Sullivan? Then why not enter our snooker competitions and win the chance to play at our grand finals weekend at the end of the season.

Sauna, Steam room & Jacuzzi

More info coming soon!

Outdoor Gym

More info coming soon!
*Please note some activities may incur an additional charge to participate and may not be available at all parks during all times.